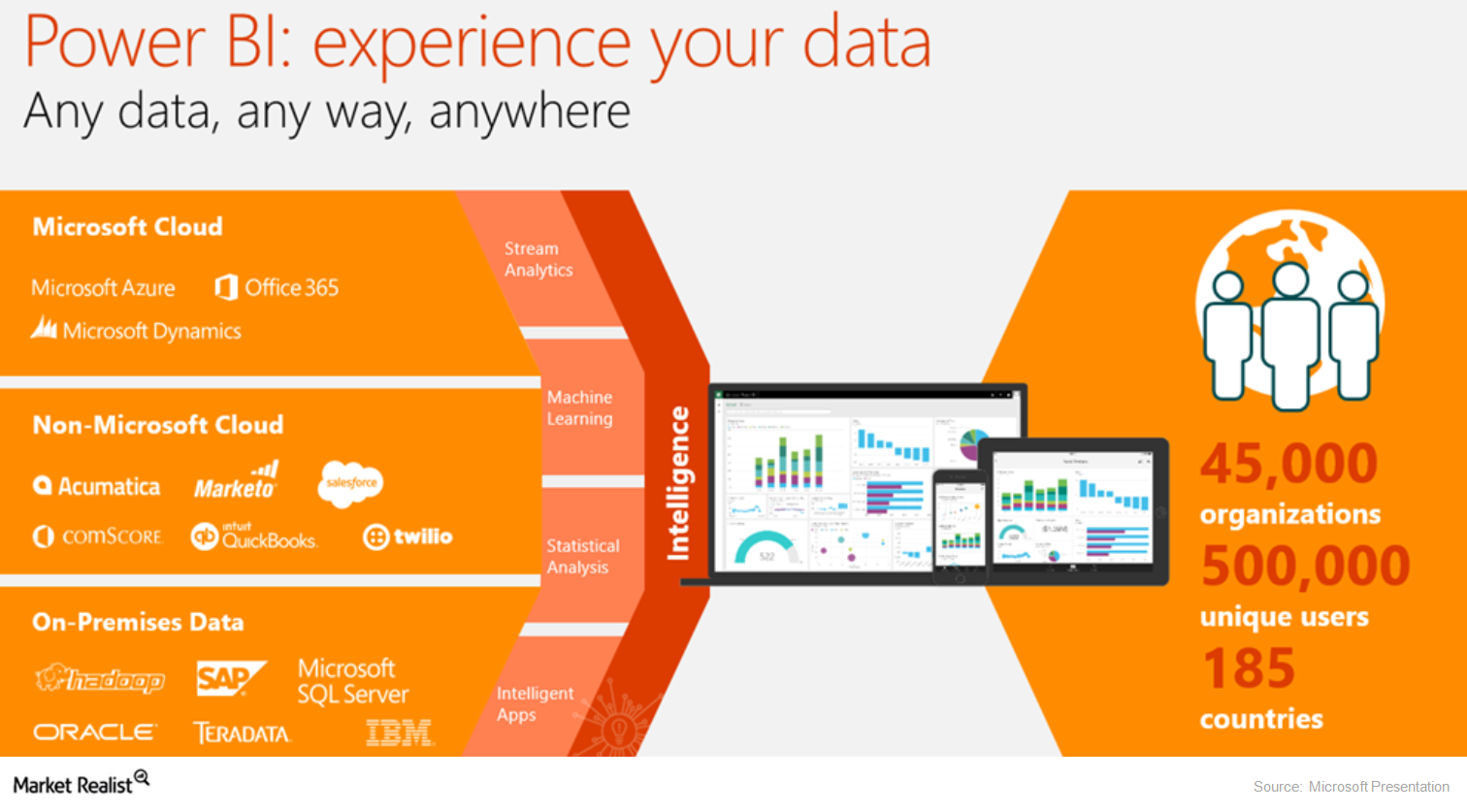 How Office 365 Could Help Microsoft Grow
By Anne Shields

Mar. 6 2018, Updated 3:30 p.m. ET
Microsoft's high expectations from Office 365
In Microsoft's (MSFT) Productivity and Business Processes segment's latest performance, Office 365 continued to steal the show.
At the Morgan Stanley (MS) TMT (tech, media and telecom) conference which is being held in San Francisco from February 26 to March 01, 2018, Microsoft's CEO Satya Nadella stated: "The growth opportunity for what is Office 365 is a lot bigger than anything we've achieved, even with our high penetration in the client-server world."
Microsoft's dominance in the enterprise software space has benefited Office 365. Within the productivity space, Office 365's faces a significant competition from Alphabet's (GOOG) Google Apps, Box, and Dropbox.
Article continues below advertisement
At its Ignite Conference held in September 2017, Microsoft unveiled Microsoft 365 F1. Microsoft 365 F1includes StaffHub, Office 365, Windows, enterprise mobility and security suite which enables companies to manage and secure devices. StaffHub is an app that handles shifts and relieves employees from calling in or stopping by the headquarters or main office to check on their weekly schedule on file.
Microsoft's targeting BI space for growth
Microsoft is also targeting BI (Business Intelligence) space with its Power BI offering which competes with Tableau Software (DATA). Microsoft's Power BI is a cloud-based business intelligence software, which charts and analyzes corporate data.
Citing Satya Nadella's statement, CNBC wrote, "We went from nowhere to being the leader in BI in the cloud." Nadella expects Power BI to have a run rate of $500 million annualized billings in fiscal 2018.
Dynamics 365 is an Azure-hosted offering that combines ERP (enterprise resource planning) and CRM (customer relationship management) offerings. According to the 2018 ComputerWeekly/TechTarget IT Priorities survey, 53% of respondents named ERP and CRM as the priority areas for investment. Microsoft's Dynamics 365 reported a growth of 70% in fiscal 2Q18. The increased growth in Microsoft's 365 indicates that the company is poised to benefit from increased spending in the ERP and CRM space.