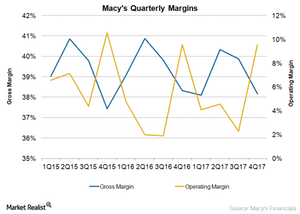 How Macy's Margins Fared in Fiscal 4Q17
Gross margin contracts in fiscal 4Q17
Macy's (M) gross margin fell ten basis points on a year-over-year basis in fiscal 4Q17 to 38.2%. The favorable effect of a higher merchandise margin was offset by the impact of free shipping for high spenders under the company's new loyalty program.
For fiscal 2017, Macy's gross margin contracted by 40 basis points to 39.0%.
Article continues below advertisement
Operating margin expansion
Macy's (M) operating margin expanded to 14.0% in fiscal 4Q17, up from 9.6% in fiscal 4Q16. The fiscal 4Q17 operating margin benefitted from lower SG&A[1. selling, general, and administrative] expenses as a percentage of sales and the impact of a $234.0 million gain from the sale of the Union Square men's store building in San Francisco.
SG&A expenses as a percentage of sales were 26.2% in fiscal 2017, compared to 27.4% in fiscal 2016. This improvement in the SG&A expense rate was driven by the company's restructuring efforts, the impact of closed stores, and lower depreciation and amortization. However, the company's operating margin was adversely impacted by growth investments associated with off-price Backstage stores, Bloomingdale's Outlet, and the Bluemercury business.
On an adjusted basis, Macy's operating margin was 16.1% in fiscal 4Q17, compared to 12.5% in fiscal 4Q16. The company's adjusted operating margin excludes the impact of restructuring costs and settlement charges related to the retirement plan. Macy's reported operating margin was 7.3% in fiscal 2017, compared to 5.1% in fiscal 2016.
Outlook
Macy's (M) expects its gross margin in fiscal 2018 to be flat to up slightly compared to fiscal 2017. The company expects its SG&A expenses to be flat or up slightly in terms of dollars based on the company's sales performance.
Macy's plans to reinvest its $300.0 million restructuring savings in growth initiatives, including the expansion of its off-price Backstage stores to support its digital business growth.