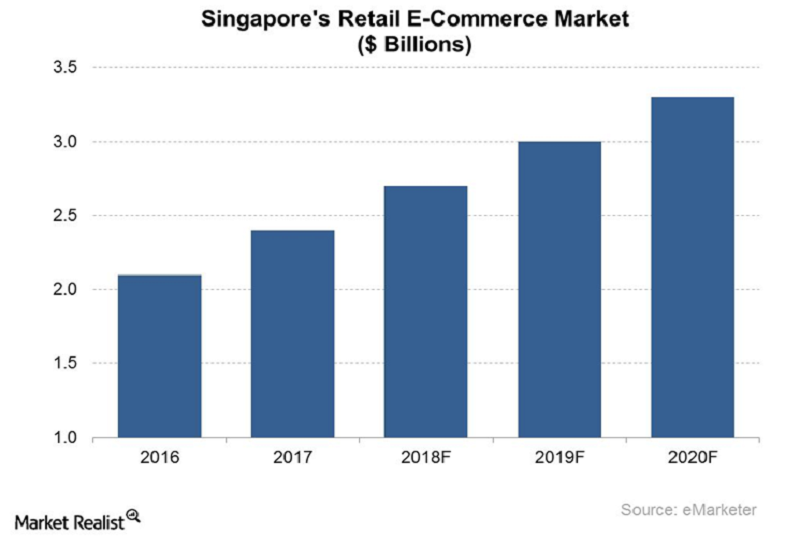 How eBay's Purchase of Qoo10 Could Affect Its Relationship with Giosis
By Ruchi Gupta

Mar. 15 2018, Updated 7:30 a.m. ET
Qoo10 serves roughly 2.0 million online shoppers in Japan
According to a recent announcement, eBay (EBAY) is buying Giosis' Japanese assets. The assets eBay is acquiring from Giosis in Japan include online shopping platform Qoo10, which serves about 2.0 million customers in Japan's eCommerce market.
But taking over Qoo10 and other Japanese assets from Giosis could mean that eBay would cease to be an investor in Giosis, a company with footprints in several Asian markets.
Article continues below advertisement
Singapore to hit $5.4 billion in ecommerce sales by 2025
Outside Japan, Giosis operates in other countries, including Singapore, Indonesia, and Malaysia, which are some of the faster-growing eCommerce markets in Asia. According to industry forecaster eMarketer, the retail eCommerce market in Singapore could expand at an average annual rate of 13.3% in each of the years from 2015 to 2020, so that the market would be worth more than $3.3 billion by the end of 2020.
In a 2016 report released in conjunction with Singapore's state investment firm Temasek, Google (GOOGL) predicted that Singapore's eCommerce market could expand to $5.4 billion by 2025. Malaysia and Indonesia are also expected to have eCommerce markets worth more than $5.0 billion by 2025.
In 2010, eBay made its initial investment in Giosis, and it has helped the company raise more capital in recent years—including more than $80 million in 2015.
The impact of the deal in the 1Q18 report
Notably, eBay said that it would update investors on the financial effect of the transaction with Giosis when it reports its 1Q18 earnings results in April.
At the same time, eBay is dropping PayPal (PYPL) as its primary payment partner by 2021, and it reported a 9.0% YoY (year-over-year) increase in revenues in 4Q17. By comparison, revenues rose 38% YoY at Amazon.com (AMZN) and 56% YoY at Alibaba (BABA) during the same quarter.