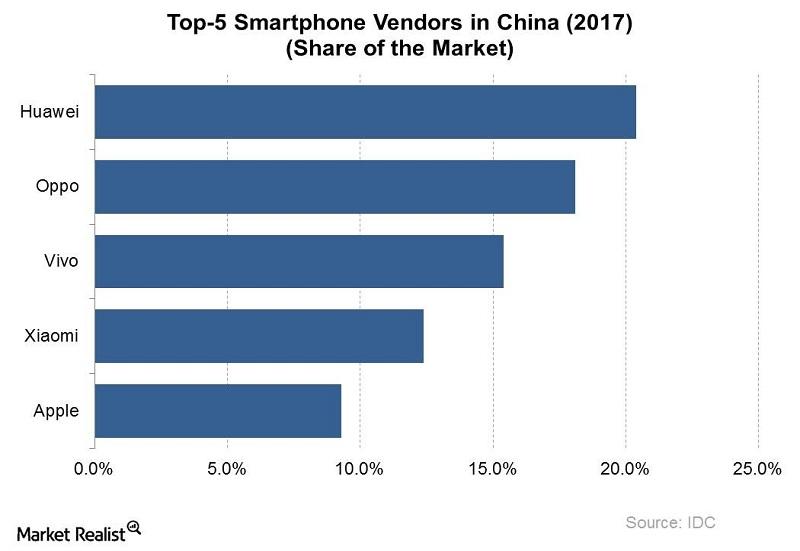 How Apple Stacks Up in China's Smartphone Scene
By Ruchi Gupta

Mar. 8 2018, Updated 9:01 a.m. ET
Apple's share of the Chinese market fell
The rapid rise of local Chinese smartphone makers in recent years has reduced foreign brands such as Apple (AAPL) and Samsung (SSNLF) into challengers rather than leaders in China's smartphone arena.
In 2017, for instance, IDC data showed that Apple had dropped to fifth place in China's smartphone market after selling 41.1 million iPhones in the country to earn itself a 9.3% market share. Last year, Apple was ranked the fourth-largest smartphone vendor in China with a 9.6% market share after shipping 44.9 million iPhones in the country.
Huawei sold the most smartphones in China in 2017, and its market share grew 18.6% YoY (year-over-year) to 20.4%. Oppo, Vivo, and Xiaomi ranked second, third, and fourth, respectively.
Article continues below advertisement
The iPhone among best-selling phone models
While Apple is no longer near the top in China's smartphone market, the company's products are still much loved in the country, giving it an opportunity to re-establish itself in the world's largest smartphone market.
According to Counterpoint Research, Apple's iPhone 7 Plus was the second-best selling smartphone model in China in 2017. Apple was actually represented by two devices in the list of the top five best-selling phones in China last year. The other model was the iPhone 7. Oppo's Oppo R9s was the best-selling smartphone model overall in China in 2017.
Broadening the iPhone's market
As much as there has been a shift to local, lower-priced smartphones in China, the high ranking of certain iPhone models in terms of sales seems to signal an opportunity for Apple to regain ground in China's smartphone scene.
Apple is expected to launch three iPhone models this year. One of the models is expected to be modestly priced, suggesting that Apple is trying to broaden its smartphone market by appealing to cost-conscious consumers. Such a strategy could help the company put more competitive pressure on the likes of Huawei and Xiaomi in China. Elsewhere, a modestly priced, high-end iPhone could help Apple push back against competition from Google (GOOGL), Sony (SNE), and BlackBerry (BB).