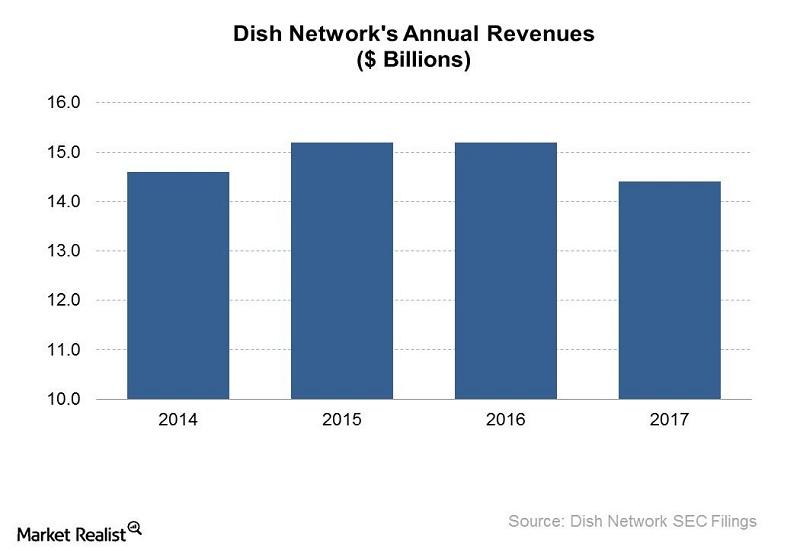 Cord-Cutting Trend Continues: How Will It Affect Dish and AT&T
By Ruchi Gupta

Mar. 14 2018, Updated 9:02 a.m. ET
Cord cutting continues
From Dish Network (DISH) to AT&T (T), pay-TV companies continued to bleed customers in 2017, as the cord-cutting wave continued to rattle their base. It's estimated that the US traditional pay-TV market lost 3.5 million customers in 2017 with Dish and AT&T shedding nearly 2.4 million customers combined.
But not every lost pay-TV customer left these companies' networks. In 2017, Dish lost about 1.2 million satellite television subscribers, but it added about 711,000 customers to its Sling TV service. Dish added 160,000 Sling TV customers in 4Q17 to close the year with 2.2 million customers on its web television service.
Article continues below advertisement
AT&T added 368,000 web television customers
Dish launched Sling TV in January 2015, and the service starts at $20 per month. With over 2.2 million subscribers on Sling TV, Dish boasts the largest base of web television customers among its major competitors. AT&T also won over cord-cutters despite shedding customers in its pay-TV wing. AT&T's DIRECTV Now, which is fashioned as a web television service that starts at $35 a month, added 368,000 customers in 4Q17 to close 2017 with nearly 1.2 million customers overall. DIRECTV Now launched in November 2016.
Netflix not interested in live television
Sony's (SNE) web television service PlayStation Vue was last estimated to have less than 700,000 subscribers. PlayStation Vue, which starts at $40, launched in March 2015. Amazon (AMZN) and Alphabet's (GOOGL) YouTube are also pushing into live web television, but they have been quiet about their audience sizes. Netflix (NFLX), a leading provider of streaming video service, has clearly stated that it has no interest in entering the live television business.
Dish's revenue fell 5.3% to $14.4 billion in 2017 amid the continued loss of more valuable satellite television customers.