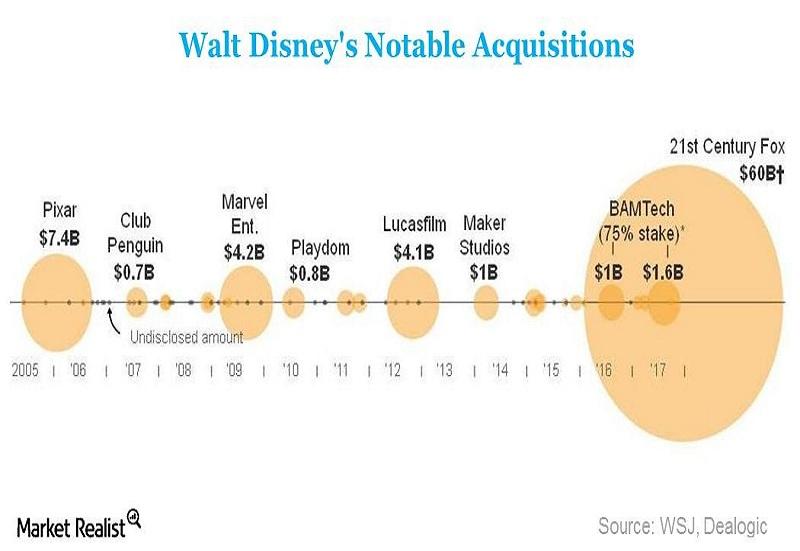 Comcast or Fox: Who Will Win the War over Sky?
By Ruchi Gupta

Dec. 4 2020, Updated 10:52 a.m. ET
Comcast's offer is a 16% premium
Comcast (CMCSA) and Twenty-First Century Fox (FOX) (FOXA) have put in competing proposals to take over Sky, a European pay-TV group. Fox already owns 39% of Sky, and it is looking to buy the rest of the group for 18.5 billion sterling pounds, or 10.75 pounds per share. But last month, Comcast moved to challenge Fox for Sky, placing a 22.1 billion pound bid for the pay-TV group. Comcast's offer translates to 12.50 pounds per share, meaning it's 16.3% higher than Fox's offer.
If valuation is the issue, then Fox could still raise its bid for Sky to match or exceed Comcast's offer. However, the timetable of sealing a deal with Sky could make the difference for Fox and Comcast in their contest to take over the group.
Article continues below advertisement
Fox targeting end of June closing
While Fox is aiming for the end of June 2018 to close its takeover of Sky, Comcast is aiming to secure regulatory approval for its Sky bid as quickly as possible so that shareholders of Sky won't have to wait longer to receive their cash.
The takeover of Sky will require regulatory approval in London and Brussels, the headquarters of the European Union. If Comcast can get regulators to approve its bid ahead of Fox, Sky's board could recommend Comcast's bid to shareholders, according to the Telegraph.
Is Fox trying to slow Comcast's progress?
Since the timetable for the regulatory green light is likely to decide who wins or who loses in the contest for Sky, Fox has begun urging regulators to subject Comcast's bid to thorough scrutiny on issues like competition and compliance, which could slow the approval of Comcast's bid.
Fox agreed to sell a stake in Sky to Walt Disney (DIS) as part of their $52.4 billion asset trade deal struck last year. Fox bypassed Comcast, Sony (SNE), and Verizon (VZ) in reaching a deal with Disney.