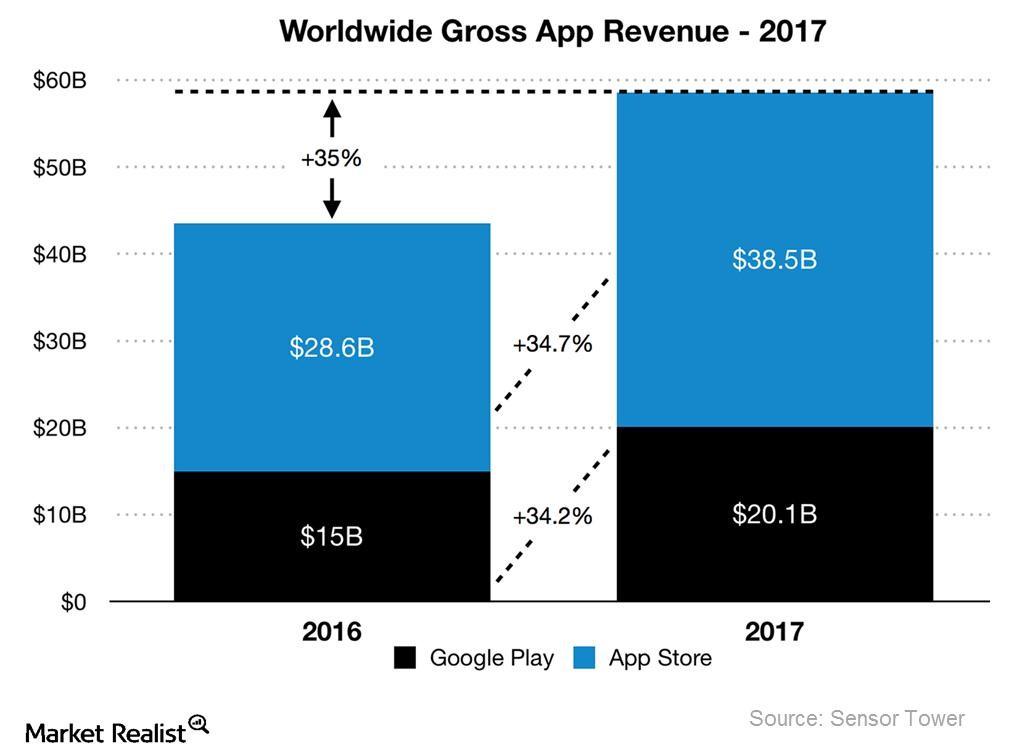 Can Training Developers Help Google Close Profit Gap with Apple?
By Neha Gupta

Mar. 22 2018, Updated 7:32 a.m. ET
Apple recorded $38.5 billion in app sales
While Alphabet's (GOOGL) Google dominates the mobile operating system (or OS) market, Apple controls the mobile app side of the equation. 
According to data insights from Sensor Tower, Apple generated $38.5 billion in app-related sales from its App Store platform in 2017—nearly double the $20.1 billion in app sales on Google Play, Google's app distribution platform. Apple also outpaced Google in terms of app revenue growth, with App Store sales rising 34.7% in 2017 compared to the 34.2% rise in Google Play sales.
Worldwide mobile app sales rose 35% to $58.6 billion in 2017. App market data and insights company App Annie has often cited Apple as making more profits from app sales than Google.
Article continues below advertisement
Developers are crucial in app business success
Developers make all the difference in the mobile app business, so Google's partnership with Microsoft's (MSFT) LinkedIn to train developers could be part of its strategy to attract more developers to the Android ecosystem. Android developers create apps and content for Google Play.
Perhaps with more Android developers out there, Google could wrest more app revenue from Apple.
Making the most of people coming online
Google and Facebook (FB) are investing in global Internet accessibility programs, where they're creating technologies and partnering with telecom operators around the world to take the Internet to unreached or underserved populations, especially those in the developing world. For Google, having more Android developers out there could help it make the most of the billions of people coming online for the first time.
A large online audience is favorable to the businesses of digital advertising and e-commerce companies such as Google, Facebook, Twitter (TWTR), and Amazon (AMZN).