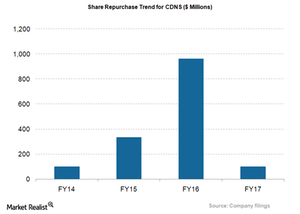 Cadence Drives Investor Wealth through Buybacks
By Aaron Hemsworth

Mar. 7 2018, Published 1:57 p.m. ET
Buyback trends
Cadence Design Systems (CDNS) continues to boost shareholder wealth through regular share repurchases. In 4Q17, the company bought back $50 million worth of shares compared to $240 million in the previous year's quarter. In the last five quarters, Cadence has repurchased nearly $100 million worth of shares.
The company enhanced investor wealth through $100 million worth of share buybacks in 2017, which is extremely low compared to the $960 million worth it bought back in 2016.
In the chart above, we can see the company's share repurchase trend over the last four years. Cadence has maintained an average of nearly $373 million worth of share buybacks every year. In the graph, we can also see that the company made the highest repurchase amount in 2016.
In January 2017, Cadence's management authorized the repurchase of shares worth $525 million, of which $425 million remains. The company also expects to buy back shares worth nearly $50 million in each quarter of 2018.
Article continues below advertisement
What's driving share repurchases?
Cadence has continued to generate strong free cash flow. It's maintained an average yearly free cash flow of $354 million in the last four years. The company's free cash flow stood at $109 million in 4Q17 compared to $186 million in the same period last year.
The company exited 2017 with $413 million in free cash flow compared to $391 million in 2016. Such a healthy free cash flow continues to support the company's share repurchase goal. Moreover, lower leverage could continue to drive the company's buyback program.
Cadence's industry peers Akamai (AKAM) and Total System Services (TSS) bought shares worth nearly $374 million and $284 million, respectively, in 2017.