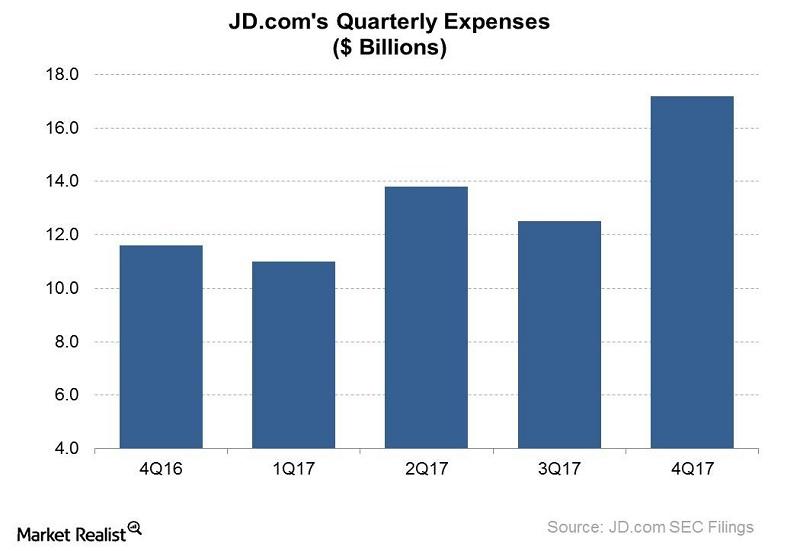 Behind the JD.com–SSLJ.com Partnership
By Ruchi Gupta

Mar. 15 2018, Updated 2:50 p.m. ET
SSLJ to sell products on JD's platforms
In February, JD.com (JD) struck a strategic partnership with SSLJ.com, a provider of home-improvement services and products in China.
SSLJ is a one-stop solution for home interior decoration and home-improvement needs. It operates nine branch companies and 12 sales offices across ten Chinese cities, including Beijing, Shanghai, and Shenzhen. JD is headquartered in Beijing.
Under the partnership, JD and SSLJ have agreed to carry out business cooperation across China, with SSLJ being able to distribute its products through JD's platforms such as JD Mall and JD Crowdfunding.
Article continues below advertisement
Running ads on JD platforms
In addition to listing its products on JD's platforms, SSLJ has committed to pay a certain amount to advertise its products on JD's platforms. In return, JD has committed to providing high-quality resources to help SSLJ better target potential customers on its platforms.
JD closed 4Q17 with 292.5 million active customer accounts, representing an increase of 29.1% YoY (year-over-year).
JD's Logistics unit could also benefit from the strategic arrangement with SSLJ.
Reducing operating costs
JD and SSLJ portrayed their partnership as providing an opportunity to expand their markets and reduce their operating expenses, which could lead to better earnings. JD's operating expenses rose 40.3% YoY (year-over-year) to $17.2 billion in 4Q17. Amazon (AMZN) and eBay (EBAY) recorded 37.2% and 10.8% YoY increases in their operating expenses, respectively, in 4Q17.
At Alibaba (BABA), operating expenses rose 74.8% YoY in 4Q17. Baidu's (BIDU) operating expenses were up 17.5% YoY in 4Q17.
The chart above shows the expense trend at JD over the last several quarters.