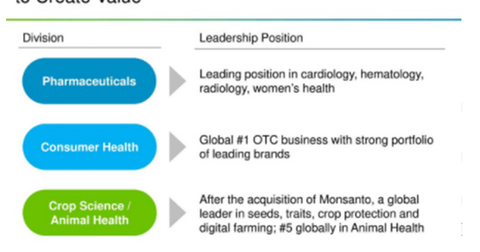 Bayer Completes Sale of Its European Imaging Device Business
By Sarah Collins

Updated
Acquisition overview
On March 6, 2018, Innovatus Imaging completed the acquisition of Bayer's (BAYZF) MVS (Multi Vendor Service) medical device repair business in Europe. The business will now operate under the new entity, which is named Innovatus Imaging Europe B.V.
The business was sold by Bayer in September 2017 to private investors. This transaction combined the business with Oklahoma-based Wetsco and Denver-based MD MedTech, which merged to form Innovatus Imaging.
Article continues below advertisement
At the time of the announcement of the deal, Steven H. Rosen, co-CEO of the private equity firm Resilience Capital Partners involved in the deal, said, "The creation of Innovatus Imaging through the acquisitions of MVS, Wetsco and MDMT gives us the scale and synergies to succeed in a market that is projected to grow by double-digit figures over the next five years as healthcare providers are asked to do more with less and extend the life of costly medical devices through repair and servicing."
Bayer's MVS business provides medical device repairs for devices such as ultrasound probes, magnetic resonance imaging coils, and other radiology devices. The business was previously part of Bayer's radiology business. The chart above shows Bayer's major segments.
Innovatus Imaging
Innovatus Imaging was formed in September 2017 and has more than 170 employees. The company is headquartered in Pittsburgh, Pennsylvania, and operates in the Netherlands, Tulsa, and Denver. The company has expertise in the areas spanning the entire life cycle of a medical imaging product, which includes design, development, manufacturing, sales, distribution, and repair. 
According to Dennis Wulf, Innovatus Imaging's CEO, "The acquisition of the European Bayer MVS business and its team's extensive expertise is the next step in our long-term strategic goal of continued growth."