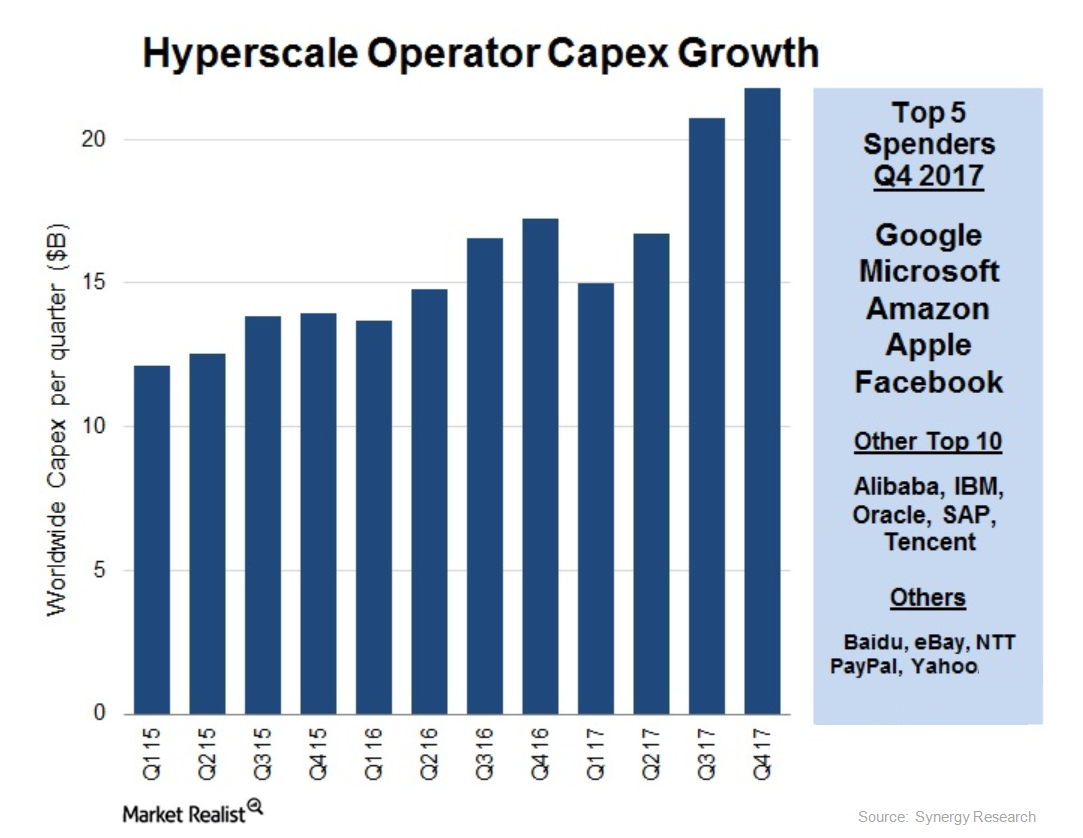 A Look at Oracle's Capex Spending in the Cloud
By Anne Shields

Mar. 9 2018, Updated 10:31 a.m. ET
Top cloud spenders spent maximum on capex
Earlier in this series, we noted that capital spending, which grew in double digits last year, is expected to continue this trend this year. Oracle (ORCL) is also aggressively participating in this trend.
According to a recent report by Synergy Research, hyperscale players' capex collectively totaled $22.0 billion and $75.0 billion in 4Q17 and fiscal 2017, respectively. On a year-over-year (or YoY) basis, this hyperscale capex, which goes toward developing and expanding data centers, grew 19.0% and has grown to 400.
Google (GOOG), Microsoft (MSFT), Amazon (AMZN), Apple, and Facebook (FB) were the top five spenders and collectively accounted for 70.0% of hyperscale capex in 4Q17. On an average during 2017, these players collectively spent more than $13.0 billion per quarter.
Article continues below advertisement
Investment in capex
After the top five spenders, Alibaba (BABA), IBM (IBM), Oracle, SAP (SAP), and Tencent ranked as the other hyperscale spenders. Among these five players, Alibaba's capex more than doubled in 2017. Notably, 4Q17 marked the first quarter in which Alibaba made it into the league of the top five cloud players.
John Dinsdale, chief analyst and research director at Synergy Research Group noted, "Over the last four years we have seen many companies try and fail to compete with the leading cloud providers. The capex analysis emphasizes the biggest reason why those cloud providers are so difficult to challenge." Oracle and SAP also reported above-average capex growth in 4Q17.