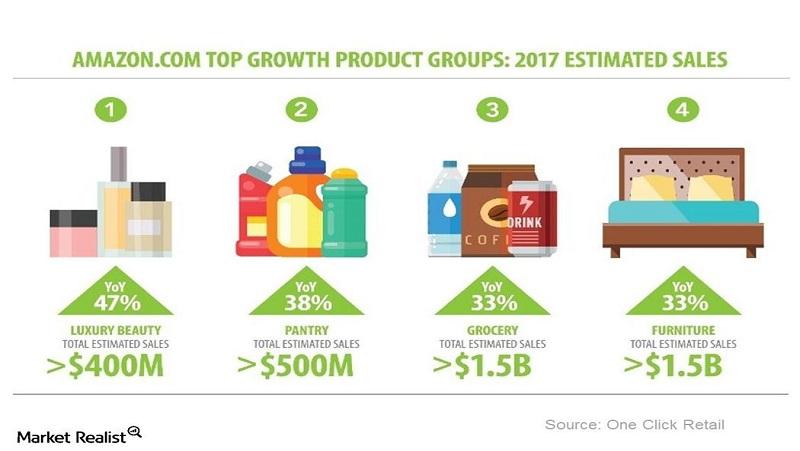 A Look at Amazon's Fastest-Growing Businesses
By Ruchi Gupta

Mar. 7 2018, Updated 10:33 a.m. ET
Grocery sales jumped 38%
Amazon's (AMZN) rise to claim 44.0% of all retail e-commerce sales in the US in 2017—and nearly 4.0% of total retail sales in the country—was supported by strong growth in its luxury beauty, pantry, and grocery product groups.
According to One Click Retail, luxury beauty was Amazon's fastest-growing product group in 2017, with sales growing 47.0% to more than $400.0 million. Pantry was the second-fastest-growing product group, with sales up 38.0% to more than $500.0 million. Grocery sales were up 33.0% to $1.5 billion.
Amazon's acquisition of Whole Foods in 2017 and its move to offer a discounted Prime membership plan to people on government assistance were viewed as part of the company's efforts to attract more grocery budgets.
Article continues below advertisement
e-Commerce operators pursuing grocery budgets
From Amazon and eBay (EBAY) in the US to Alibaba (BABA) and JD.com (JD) in China, e-commerce companies are only attempting to break into the grocery industry—a stronghold of legacy retailers like Walmart (WMT) and Costco (COST). Alibaba recently took control of India's leading grocer, BigBasket, as part of its push into the food market.
One reason food budgets have remained largely offline is that consumers are accustomed to inspecting food in person before buying.
Consumer electronics brought the most sales
While luxury beauty was Amazon's fastest-growing product group in 2017, consumer electronics was the company's largest product group in terms of sales, according to One Click Retail's estimates. Consumer electronics, which includes sales of devices like laptops and headphones, generated $8.5 billion in gross sales for Amazon in 2017.