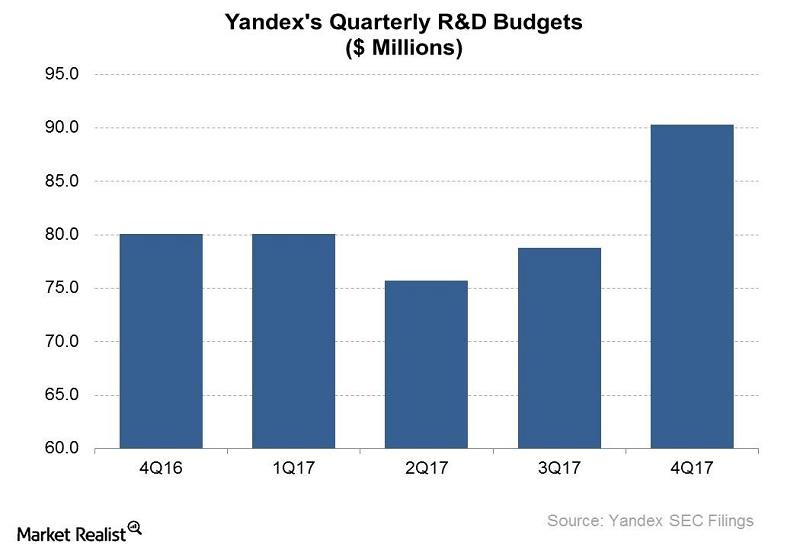 A Closer Look At Yandex's Research and Development Budget
By Neha Gupta

Mar. 27 2018, Updated 7:31 a.m. ET
Looking beyond advertising
As competition for digital advertising funds increases, search engine companies such as Yandex (YNDX) and social media companies such as Facebook (FB) have been hunting for new revenue streams beyond advertising.
Facebook, for instance, is building its WhatsApp messaging app into a tool that businesses could pay to use for their communication needs. Twitter (TWTR) also has explored building its TweetDeck feature into a product that could be offered to professionals such as journalists on a paid subscription basis.
Article continues below advertisement
Baidu spends 15% of revenue on R&D
Yandex and fellow search providers Google (GOOGL) and Baidu (BIDU) are hunting for new revenue sources in areas ranging from autonomous driving to mobile payment. Creating new revenue streams requires investment in product development or generally research and development (or R&D). Baidu, which is working to put a fully self-driving bus on the road in China this year, spends roughly 15% of its annual revenue on R&D each year on average.
Yandex's R&D spending in 4Q17 increased 21% YoY to roughly $90.3 million, representing 18.6% of revenue. R&D spending in 2017 increased 19% and represented 18.9% of revenue.
Voice assistants come first, and then smart speakers
In 4Q17, Yandex launched a digital voice assistant called Alice, which could pave its way into the smart speaker business. Streaming music provider Spotify is also testing a voice assistant that could see it extend competition with Apple to hardware.
At Amazon (AMZN), Apple, and Google, we've seen the launch of voice assistants followed by the rollout of smart speakers.