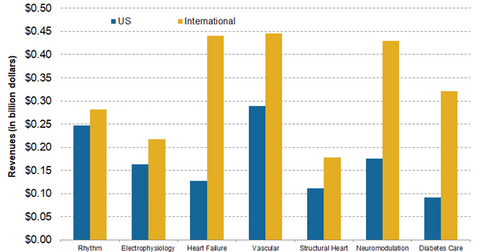 What's ahead for Abbott Laboratories' Medical Device Unit?
By Sarah Collins

Updated
Abbott's medical device segment sales in 2017
In fiscal 4Q17, Abbott Laboratories (ABT) registered total sales of $7.6 billion. Its Medical Device segment is its largest business division, contributing ~36% to the company's total sales for the quarter. In 4Q17, Abbott's medical device business generated ~102.2% YoY (year-over-year) sales growth on a reported basis. On a comparable operational basis, the segment's sales grew by ~9.6%.
For fiscal 2017, Abbott's medical device segment registered sales of $10.3 billion, representing a YoY sales growth of ~97.3%. On a comparable operational basis, the segment's sales for fiscal 2017 registered a ~5.7% rise.
Abbott's Medical Device segment also includes devices that were part of St. Jude Medical, which Abbott Laboratories acquired in January 2017.
Article continues below advertisement
Cardiovascular and Neuromodulation business performance
In 4Q17, Abbott's Cardiovascular and Neuromodulation business reported sales of $2.3 billion, representing YoY growth of ~6.9% on a comparable operational basis. The division's sales consist of the rhythm management, electrophysiology, heart failure, vascular, and structural heart businesses, along with the neuromodulation business, which was added through the acquisition of St. Jude Medical.
Neuromodulation division sales registered double-digit YoY growth, led by a number of key product launches. ABT appears to be better positioned now, with its expanded portfolio to compete with the dominant players like Medtronic (MDT), Boston Scientific (BSX), and Nevro (NVRO) in this space.
Electrophysiology
ABT's Electrophysiology segment witnessed a double-digit growth in 4Q17. The company initiated the US launch of its smartphone compatible Confirm Rx ICM (Insertable Cardiac Monitor), which is the world's first-of-its-kind device, in 4Q17 as well.
ABT's structural heart business also registered strong growth of ~11.9%, driven by its market-leading Mitraclip device. Abbott's recently approved Heartmate 3 system uptake drove the company's heart failure business growth, which came in at ~4.8%.
ABT witnessed a slight decline in sales in its vascular business, but the company received a CE Mark approval for its Xience Sierra device in 4Q17, which is expected to boost its growth and market position going forward.
Diabetes Care
Abbott's Diabetes Care segments saw its sales rise ~33.2% on a reported basis in 4Q17. However, on a comparable operational basis, the business reported a ~27.6% rise.
This strong growth was led by Abbott's leading product Freestyle Libre, which has expanded its reach across international geographies with a number of reimbursement approvals. The company also initiated the launch of the device in the United States in January 2018. (For more, read "Assessing the Role of Freestyle Libre in Abbott's Diabetes Segment Growth.")
For diversified exposure to Abbott Laboratories, you can consider investing in the Vanguard Health Care ETF (VHT). ABT makes up ~2.9% of VHT's total holdings.