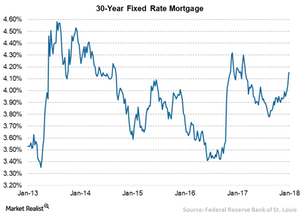 Why Wells Fargo Could See A Huge Earnings Hit This Year
By Peter Barnes

Updated
The Fed imposes strict penalties on Wells Fargo
Last week, the Fed imposed strict penalties on Wells Fargo (WFC) for years of misconduct and non-compliance. The Fed also barred the bank from future growth until the bank resolves its issues. The Fed demanded the replacement of four board members for failing to supervise the bank. The penalties on Wells Fargo may close growth and make it difficult for it to compete with rivals. Wells Fargo says the Fed's penalties could lead to an earnings loss of ~$400 million this year.
Big US banks ban cryptocurrency purchases on credit cards
JPMorgan Chase (JPM), Bank of America (BAC), and Citigroup (C) will not allow their customers to use credit cards to buy cryptocurrencies. According to Bloomberg, the policy applies to all personal and business credit cards but doesn't affect debit cards. Banks fear that borrowers could suffer huge losses if they make the wrong bets on cryptocurrencies, and could eventually default on their card balances.
Mortgage rates rise
A sharp rise in ten-year bond yields has pushed mortgage rates (MBB) higher. In the last month, the ten-year bond yield has risen from 2.5% to 2.9%. Mortgage rates, which roughly follow ten-year Treasury yields, have risen from 4.0% to 4.2%. Higher mortgage rates could make buying a home more expensive.