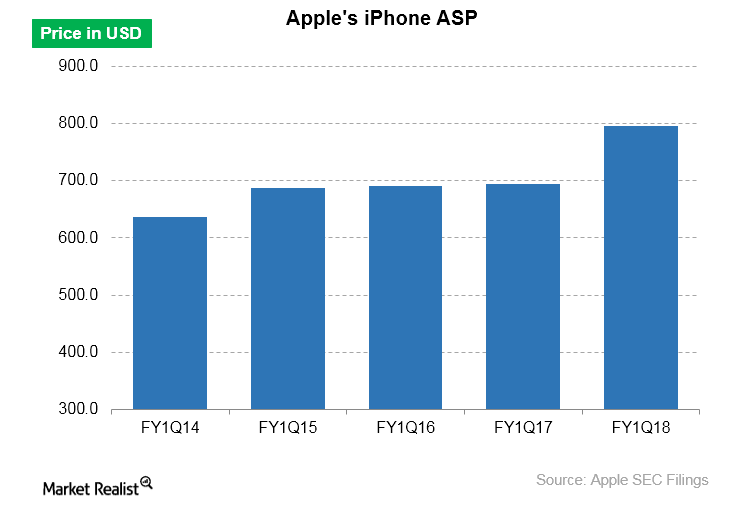 A Look at iPhones' Average Selling Price
By Ruchi Gupta

Feb. 15 2018, Updated 9:03 a.m. ET
Average selling price rises more than $100
Apple's (AAPL) iPhone ASP (average selling price) rose to $796 in the three-month period ended December 2017, up from $695 a year prior. The ~$100 increase in iPhones' ASP in just one year was supported by the launch of the higher-priced iPhone X and the success of the iPhone 8 and iPhone 8 Plus, which Apple also launched late last year.
The iPhone X, which has a starting price of $1,000, went on sale on November 3. Therefore, the pricier model was only on the market for roughly two months of the three-month quarter. The chart above shows how Apple's iPhone ASP has trended in recent years.
Article continues below advertisement
ASPs are closely watched
As the smartphone market becomes more competitive, ASPs have become closely watched metrics. The iPhone's ASP of $796 in 1Q18 topped the consensus estimate of $755.80.
With the iPhone's ASP jumping more than $100 between 1Q17 and 1Q18, Apple showed that competition has not eroded its ability to convince customers to pay more for its products. The iPhone's rising ASP means Apple could generate more cash that it could invest in technology, which could help fend off competition from smaller rivals.
Xiaomi dethrones Samsung in India
Smaller smartphone vendors such as China's Xiaomi and Oppo are posing tough competition for Apple and Samsung (SSNLF). According to Canalys, Xiaomi dethroned Samsung as the top smartphone vendor in India in the December quarter.
Xiaomi's rise in India and elsewhere has been attributed to its rapid penetration of the low-cost smartphone market. India is the world's second-largest smartphone market and a coveted technology market overall, which is why multinational technology brands such as Amazon (AMZN), Microsoft (MSFT), and Alibaba (BABA) are investing significantly to expand their Indian operations. Last year, Apple started producing iPhones in India.