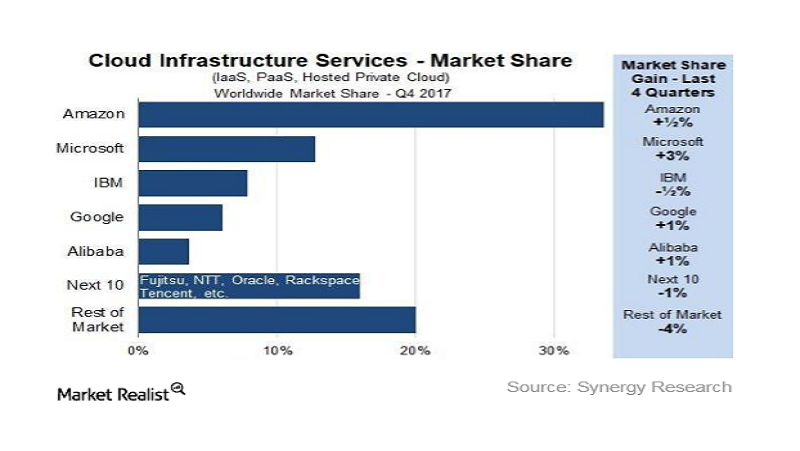 Larry Ellison Attacks Amazon Redshift
By Ruchi Gupta

Feb. 15 2018, Updated 5:35 p.m. ET
Ellison attacked Amazon's Redshift
The Information report about Amazon (AMZN) having made up its mind to move away from Oracle's (ORCL) database is the latest round in the battle the two companies have been fighting recently. As much as Amazon is considered one of Oracle's biggest database customers, Oracle's co-founder and chief technology officer, Larry Ellison, doesn't have many kind words for Amazon's cloud business, Amazon Web Services (or AWS).
Article continues below advertisement
At a high-level meeting of Oracle customers in October last year, Ellison took several swipes at Amazon, saying its data warehouse Redshift wasn't as elastic as Amazon claimed it was. TechCrunch quoted Ellison as saying, "[Redshift] cannot automatically increase the number of processors to run a bigger workload, then free up those processors. Just can't do it." Amazon responded by saying that Ellison's claims about the elasticity of Redshift were untrue.
Ellison touted new Oracle database product
The exchange sparked by Ellison's comments at the Oracle OpenWorld conference in October was just one highlight of Ellison's criticism of Amazon's cloud and data offerings.
At the release of Oracle's fiscal 2Q18 earnings in December, Ellison touted Oracle's new database product saying, "we guarantee the price of running the Oracle Autonomous Database in the Oracle Cloud is less than half the cost of running a database in the Amazon Cloud."
Cloud competitors
With increasingly conflicting interests, Amazon has determined that it needs to accelerate its exit from Oracle's database. Oracle and Amazon are fierce competitors in the cloud computing market, where Amazon has the leading market share followed by Microsoft (MSFT), according to Synergy Research. IBM (IBM), Alphabet's (GOOGL) Google, and Alibaba (BABA) are the remaining top five cloud vendors.