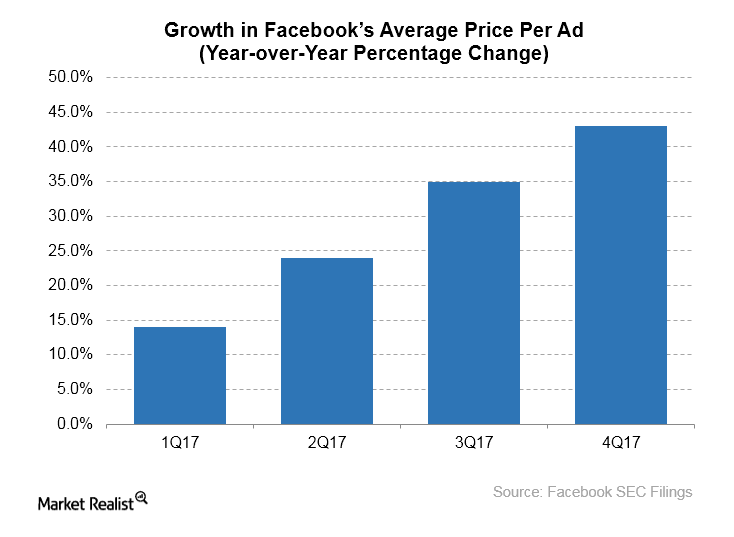 Interpreting Facebook's Ad Metrics
Average price per ad rose 29% in 2017
Facebook's (FB) advertising revenues rose 48.0% YoY (year-over-year) and 49.0% in fiscal 2017. These increases were driven by factors such as higher fees the company charged advertisers for a presence on its platforms.
Facebook stated that its average price per ad, or the cost to place a single ad unit on its platforms, increased 43.0% YoY in 4Q17 and 29.0% in 2017. Facebook's average price per ad rose faster in both periods than in its prior periods. In 3Q17, Facebook's average price per ad increased 35.0%, and the average price per ad increased 5.0% in 2016.
Article continues below advertisement
Strong demand for Facebook's ad products
The increase in Facebook's average price per ad came from strong demand for the company's advertising products. The company serves ads on its digital properties, particularly its flagship Facebook platform, which has more than 2.1 billion monthly users. Messenger has more than 1.3 million monthly users, and Instagram has more than 800.0 million monthly users.
During 4Q17 and 2017, there was an increase in the number of marketers actively advertising on these platforms, which resulted in increased ad prices. Additionally, Facebook saw that its existing advertisers increased their ad spending on its platforms, which also resulted in higher average prices per ad.
Facebook metrics put spotlight on rivals
Facebook's soaring ad metrics put a spotlight on its rivals Twitter (TWTR), Snap (SNAP), Alphabet's (GOOGL) Google, and Verizon (VZ). Twitter and Snap have tried to invest in more video content to help them attract more digital advertising dollars. Facebook seems to have demonstrated that overcoming its dominance won't be easy. Verizon spent more than $9.0 billion in its AOL and Yahoo acquisitions to expand in the digital advertising space.