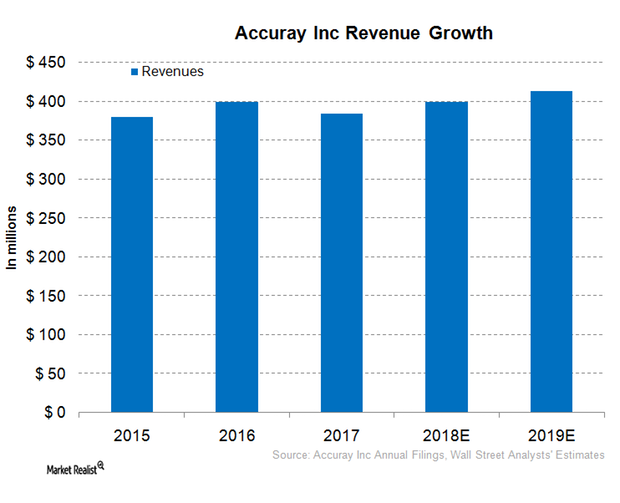 A Look at Accuray's Therapy Systems
By Kenneth Smith

Feb. 28 2018, Updated 3:42 p.m. ET
CyberKnife systems
Accuray's (ARAY) CyberKnife systems are robotic systems that treat cancerous tumors through the delivery of radiosurgery. CyberKnife systems are the only dedicated full-body robotic radiosurgery systems on the market.
Article continues below advertisement
Tomo therapy systems
Accuray's Tomo therapy systems are versatile radiation therapy systems that are used for treating a wide range of cancer types. These systems include the Tomo therapy H series systems with configurations of TomoH, TomoHD, and TomoHDA.
Based on a CT scanner platform, the Tomo therapy systems provide continuous delivery of radiation from 360 degrees around the patient or from beam angles specified by the clinician. These features help physicians in delivering highly accurate, individualized dose distributions that precisely conform to the shape of the patient's tumor. Accuray's Radixact system includes the company's integrated precision treatment planning software and data management system.
Sales channels
In the United States, Accuray primarily markets its systems directly to customers, which mainly include hospitals and standalone treatment facilities through sales agents, group purchasing organizations, and the company's own sales force. Outside the United States, Accuray markets its systems to customers directly and through distributors and sales agents.
Order backlog trends
For Accuray, generating revenues from the sale of its systems is a lengthy process. The time span between the first contract with a potential customer to a signed sales contract can be between six months and two years.
Thus a look at the order book can give insight into future revenue levels for the company. At the end of 2Q18, the product backlog of Accuray totaled $470.5 million compared with a backlog of $426.1 million at the end of 2Q17. In 2Q18, Accuray received new orders worth $77.9 million. The fourth quarter of 2017 is the second quarter of Accuray's fiscal 2018.
In the next part of the series, we'll look at the overall market trend for Accuray's products.