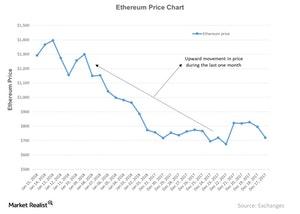 Why the Slump in Cryptocurrencies?
By Meera Shawn

Updated
The cryptocurrency slump
Almost all cryptocurrencies took a downturn on Tuesday, January 16, 2018. As of 10:00 AM EST that day, Bitcoin had fallen 16.3% over the past 24 hours. Ethereum, Ripple, Bitcoin Cash, Cardano, and Litecoin had fallen 16.5%, 24.3%, 20.6%, 23.1%, and 16%, respectively. The ten top cryptocurrencies according to market cap fell an average of 18%. Other smaller cryptocurrencies have fallen even more.
Bitcoin was trading at $11,974, and its trading volume was close to 20,701. The RSI (relative strength index) level in Bitcoin has fallen a massive 38.7. An RSI level below 30 is an indicator of a possible upward reversion in price.
Article continues below advertisement
Top losers
The cryptocurrencies that lost the most include MediBloc, TRON, Reddcoin, and Bitcoin Gold, which fell 37.5%, 34.6%, 33.4%, and 32.5%, respectively, during that period. The projected reason behind the sudden slump in the price of cryptocurrencies (ARKW) was not China or South Korea this time, but possibly a reconsideration of the potential of digital currencies.
Market cap
Let's look at some possible reasons for the slump. The technology of Tron (and other cryptocurrencies, for that matter) may not be very user-friendly to warrant the multi-billion-dollar valuations that they have. The total market capitalization of crypto coins has hit $0.5 trillion, and during the past three years, the market cap has increased almost 200 times.
It's also possible that Warren Buffet's negative outlook on bitcoin had something to do with it. That could have caused an eventual slump in price and may have even taken down other cryptocurrencies. His view is highly regarded in the market, and there could be a chance of a herding behavior.