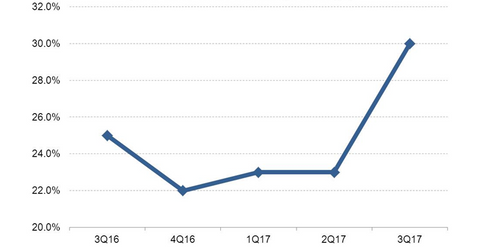 Why PayPal has Partnered with Credit Card Companies
By Neha Gupta

Updated
Giving customers transaction freedom
While PayPal (PYPL) has talked about its customer acquisition rate gaining momentum after it decided to partner with card companies Visa (V) and MasterCard (MA), this boost may just be a beneficial side effect of the partnerships.
PayPal went into partnership with Visa and MasterCard with specific goals in mind, namely to enable customers to pay any way they want. The company says it has achieved this goal.
Article continues below advertisement
At the Credit Suisse 21st Annual Technology, Media & Telecom Conference, PayPal CFO (chief financial officer) John Rainey said, "What the network agreements did for us, though, was fundamentally, they're all about providing our customers choice to allow them the way they – to transact however they want," adding that "if they want to use a Visa card or a MasterCard or a particular issuer card, they can do that. We're not forcing them to transact in a certain way."
Expanding into physical stores
PayPal's other goal in partnering with Visa and MasterCard was to allow it to "move more aggressively into the store," as stated by PayPal CEO Dan Schulman after the deals. This goal is important considering the competitive pressure the company faces from Apple (AAPL) and Square (SQ) in processing store payments.
A volume play for PayPal
What happens when PayPal becomes a universally accepted method of payment in stores and online? The company is able to grow its transaction volume, generating more revenue and profits.
PayPal CFO Rainey said that partnering with card networks, issuers, and other technology platforms was "very much a volume play for us." PayPal's payment volume grew 30% year-over-year to $114 billion in 3Q17. The chart above shows how PayPal's payment volume growth has trended since 3Q16.