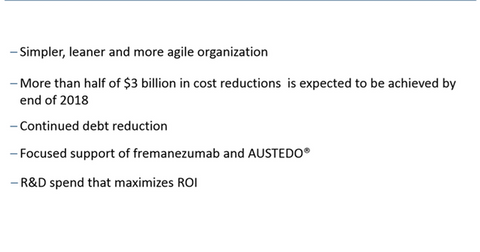 What's Teva Pharmaceutical's Research and Development Strategy?
By Sarah Collins

Jan. 16 2018, Updated 3:30 p.m. ET
Teva's R&D investment plans
In December 2017, Teva Pharmaceutical Industries (TEVA) laid out a detailed restructuring plan for the company to turn around its ailing business due to a number of challenges it's facing. They include generic competition for its MS (multiple sclerosis) drug Copaxone, an extremely high debt of $32 billion, price erosion in the generics market due to increased competition, and lower-than-expected product launches over the recent fiscal year. As we've already seen, the company has established plans to address all these issues.
Article continues below advertisement
Teva plans to shut down some of its R&D (research and development) centers around the world as part of its realignment and cost-cutting measures. The company aims to consolidate its R&D sites for more efficient processes and procedures and better financial viability. Teva is focused on making these cuts while maintaining the strength of its R&D portfolio and the company's ability to service the market. The company plans to lay off many of its employees at these sites by the end of January 2018 and more over the next two years.
R&D portfolio optimization
Teva Pharmaceutical has plans to optimize its R&D portfolio with a focus on establishing a strong generic R&D portfolio. It aims to continue to have the maximum number of first-to-file and first-to-launch generics in the market. In the generics market, new launches are the key operating profit drivers for a company. So the company that is first-to-file in this market is able to command higher prices that decline after one to two years when competition speeds up and pricing pressures kick in. A first-to-launch followed by first-to-file provides higher value for the company.
In fiscal 3Q17, Teva spent 9.7% of its total sales on R&D investments. Peers Mylan(MYL), Merck & Co. (MRK), and Valeant (VRX) spent 5.6%, 18%, and 3.6%, respectively, of their total sales, in their last reported quarters.
Teva makes up 0.27% of the iShares MSCI EAFE Value (EFV). Investors interested in indirectly investing in TEVA stock could consider EFV.