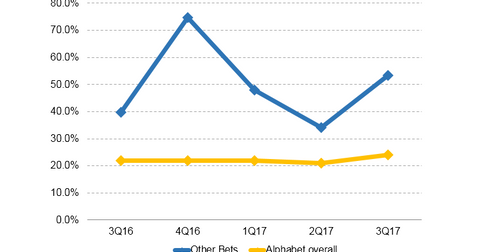 Could Waymo Taxi Spark More Growth in Alphabet's Other Bets?
By Neha Gupta

Updated
Other Bets grew over 53% YoY
As Alphabet (GOOGL) gears up to report its 4Q17 results, one of the areas that's expected to attract significant investor scrutiny is its Other Bets segment. This is the Alphabet segment that bundles sales from small and largely experimental operations such as Waymo, Project Loon, Google Fiber, and Nest Labs.
Alphabet reported Other Bets revenue of $302 million in 3Q17 compared to $197 million in a similar quarter a year earlier. This difference shows that the segment's revenue rose more than 53% YoY (year-over-year) in 3Q17. Alphabet's overall revenue in the quarter rose 24% YoY to $27.8 billion in 3Q17.
Article continues below advertisement
Other Bets growing faster than Alphabet overall
Although Other Bets makes up only a sliver of Alphabet's overall revenue, the segment is growing faster than Alphabet's average growth rate. Since at least 3Q16, the Other Bets segment has grown at almost double the rate of Alphabet's overall business, as we can see in the chart above.
Since Waymo is one of the contributors of Other Bets revenue, the launch of Waymo's driverless ride-hailing service is set to bring more attention to the segment. Waymo is gearing up to compete with Uber, Lyft, Juno, Sidecar, and possibly General Motors (GM) and Ford Motor Company (F) in the US (SPY) ride-hailing market. It remains to be seen whether Waymo's venture into the taxi-services business via driverless vehicles will spark further growth in Alphabet's Other Bets segment.
Breaking reliance on ad budgets
Alphabet's Other Bets performance is being closely watched not only because it's made up of largely experimental initiatives but also because it carries the company's hopes of breaking its heavy reliance on digital advertising. Alphabet, Facebook (FB), Twitter (TWTR), and Snap (SNAP) look to advertising for over 80% of their revenues.