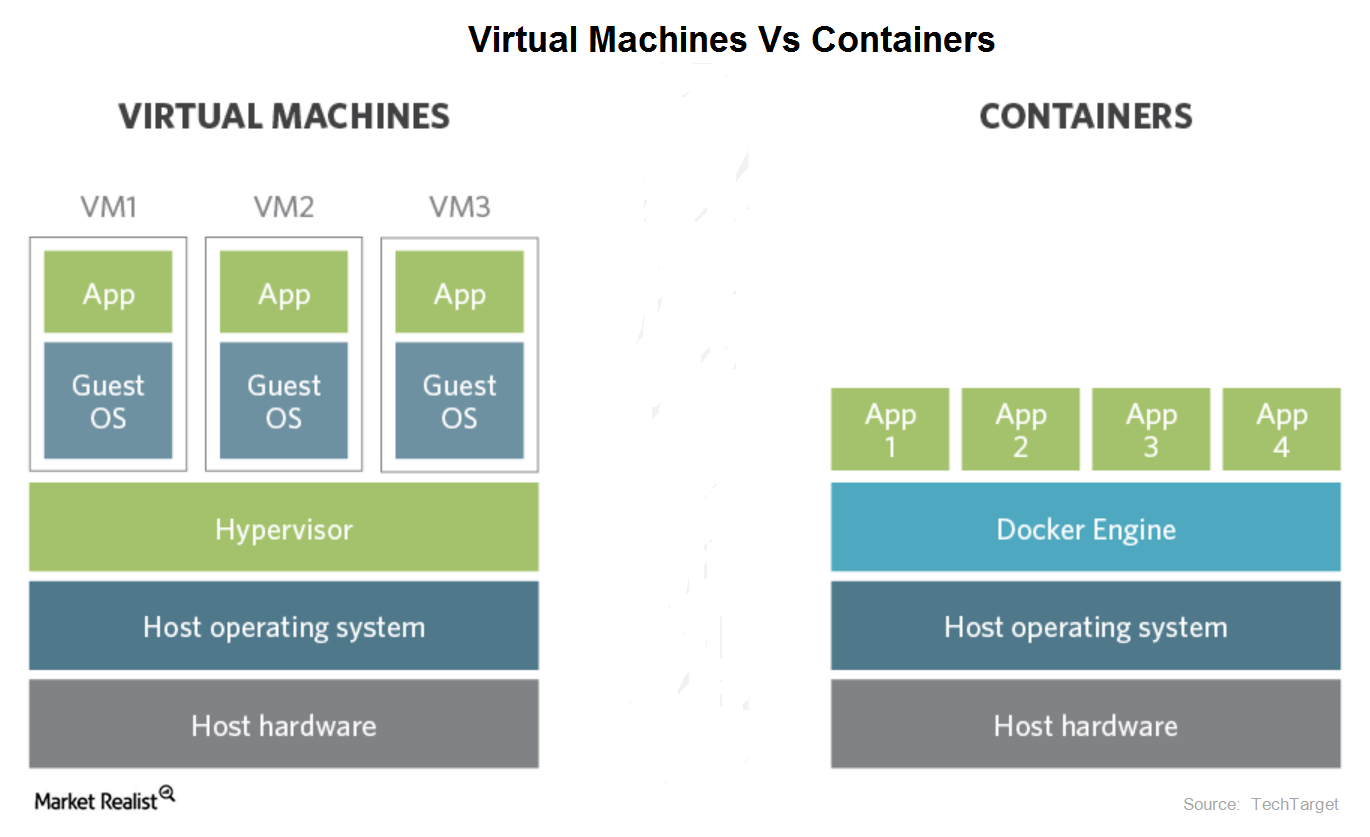 VMware's Focus on Container Technology and What It Indicates
By Anne Shields

Nov. 20 2020, Updated 3:06 p.m. ET
VMware's strategy in the IT space
Earlier in the series, we looked at VMware's (VMW) NSX performance as well as its myriad initiatives to increase the adoption of NSX. Shedding light on the company's strategy in today's IT (information technology) environment, Matt De Vincentis, group product marketing manager, told The Next Platform, "The company has tracked a move in application architectures away from the traditional three-tier model that includes high use of virtual machines (VMs) to ones that include microservices, containers, and cloud-native app platforms."
To understand this model, let's look at the components that make up this model. Containers are applied as an OS (operating system) level virtualization system, which places an additional level of software abstraction layer above the OS but below the application code level.
Article continues below advertisement
Microsegmentation is a security technology that enhances the flexibility of network security with software-defined policies rather than manual configuration work. As a result, companies get access to better network performance and a simpler architecture in virtualized and SDDC (software-defined data centers) with varying workloads.
Containers might become a standard of computation in the enterprise IT space
In late August 2016, VMware along with Pivotal Software teamed up with Google (GOOG) to promote Kubernetes to establish companies with their own data centers. Kubernetes is a container technology that was developed by Google. To get its hands on this technology as well as enhance its popularity among developers, Microsoft acquired Deis.
Containers along with Kubernetes is rapidly becoming an industry standard, which is apparent from the technology players' growing interest in it. That's encouraging news for containers, which are widely believed to have a potential for intercloud workload portability. VMware is strategically inclined to cash in on this trend, which is widely believed to have the potential of becoming a standard of computation in the enterprise IT space, as stated by Techtarget.com.