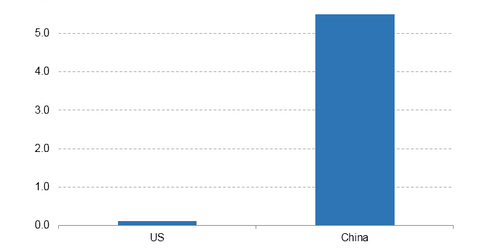 Viewing the JD Finance–ICBC Partnership in Light of the Spin-Off
By Ruchi Gupta

Updated
JD getting 40% of JD Finance's profits
JD.com (JD) separated its financial services arm, JD Finance, in mid-2017. JD.com is Alibaba's (BABA) chief rival in China's (MCHI) e-commerce sector. The spin-off of JD Finance yielded 14.3 billion yuan (or ~$2.1 billion) for JD.com from the sale of its stake in the finance business. JD.com held 68.6% of JD Finance, and the spin-off of the business saw it break off the entire stake.
The spin-off of JD Finance was structured to allow JD.com to share in the future profits of the finance business. The spin-off structure allows JD to garner 40.0% of JD Finance's future pretax profits.
Alibaba has a similar arrangement with its payments affiliate, Ant Financial, which runs the Alipay service. JD can elect to swap its profit share in JD Finance for a 40.0% equity stake in the business.
Article continues below advertisement
Freeing up finance unit to expand services
JD Finance's partnership with the ICBC (Industrial and Commercial Bank of China) seems to fit with the idea that informed its split from JD.com.
The move to deconsolidate JD Finance was viewed as a way to free up the financial services unit. This action would allow it to pursue opportunities in China's digital financial services market and position itself to challenge Ant Financial.
In splitting off JD Finance, JD.com also hoped to make it easier for the business to raise capital and gain regulatory licenses to expand its services. JD Finance provides a host of financial services such as credit and investments.
JD Finance launches digital bank
JD Finance and ICBC joined forces to launch a digital bank, which would allow customers to connect online and offline banking channels. This partnership could help JD Finance accelerate its penetration of China's digital payments market (QQQ).
China's mobile payments market is expanding rapidly, with volumes reaching $5.5 trillion in 2016, according to iResearch China. Forrester Research estimated that the volume of US (SPY) mobile payments could be $112.0 billion in 2016.