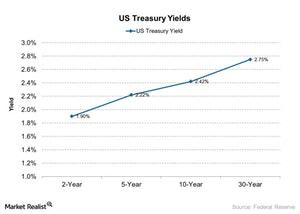 Analyzing How US Treasury Performed in 2017
By Sarah Sands

Updated
US Treasury in 2017
The iShares 20+ Year Treasury Bond ETF (TLT), which tracks the performance of the US long-term Treasury bond, rose 8.9% in 2017. The iShares 1-3 Year Treasury Bond ETF (SHY), which tracks the performance of the US short-term Treasury bond (BND), rose 0.15% in 2017. Compared to the short-term bond, the long-term bond rallied strongly in the last year.
Article continues below advertisement
However, the bond yield showed a different picture. The yield generally moves in the opposite direction from bond prices. The short-term bond yield showed a solid improvement in 2H17. The US two-year Treasury yield rose 59% in 2017. From September 8, 2017, to December 29, 2017, it rose 49%. The Fed's gradual rate hike process mainly supported the movement of the short-term bond yield.
In the economy, a flattening yield curve situation arose in 2H17. It happens when various maturity bonds have similar yields. The short-term bond yield moves closer to the long-term bond yield. The flattening yield curve generally raises concerns about the long-term economic outlook. Billionaire investor Bill Gross recently said in an interview with CNBC that the flattening yield curve is indicating some risks to the US economy (QQQ) (SPX-INDEX).
In the next part of this series, we'll analyze how crude oil performed in 2017.