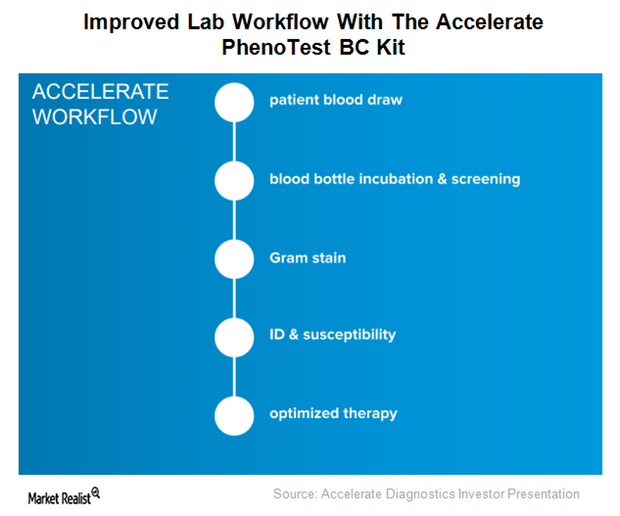 What's the Competitive Landscape for Accelerate Diagnostics?
By Kenneth Smith

Jan. 12 2018, Updated 12:20 p.m. ET
Existing players
Accelerate Diagnostics (AXDX) currently competes with companies with automated microbiological testing products on the market like Becton Dickinson (BDX), bioMerieux, Danaher (DHR), Bruker (BRKR), Luminex (LMNX), T2 Biosystems (TTOO), and Thermo Fisher Scientific's (TMO) subsidiary TREK Diagnostics Systems.
However, only Becton Dickinson, bioMeriux, and TREK have products on the market that perform the antibiotic susceptibility test (or AST). According to Accelerate Diagnostics, none of its competitors' products provide AST results as quickly as its Accelerate Pheno System.
Article continues below advertisement
Bruker's Biotyper System
Additionally, Quantmatrix and Lifescale are in the process of developing competing products. Bruker's Biotyper system based on mass spectrometry and in particular Matrix-assisted laser desorption ionization time of flight version (or MALDI-TOF) is a major competitor to Accelerate's products. Bruker has entered a number of distribution agreements for its product. MALDI-TOF systems have a major price advantage in the market.
The U.S. Food and Drug Administration (or FDA) granted marketing approval for Accelerate Diagnostics' Accelerate Pheno system and Accelerate Pheno Test BC kit for identifying and antibiotic susceptibility testing of pathogens directly from positive blood culture samples.
National Institute of Health grant
Accelerate Diagnostics received a $5 million grant from the National Institute of Health to develop a fast and reliable identification and categorical susceptibility test of carbepenem-resistant enterobacteriaceae directly from whole blood.
Arizona Commerce Authority
Accelerate Diagnostics entered a grant agreement with the Arizona Commerce Authority in August 2012 under which Accelerate was granted certain state and county sponsored incentives to relocate its headquarters to and expand its business within Arizona. Under the agreement, the authority agreed to a grant of $1 million to Accelerate to advance its project. Accelerate Diagnostics makes up about 0.02% of the Vanguard Health Care ETF's (VHT) total portfolio holding.
In the next part of the series, we take a look at the financial performance of Accelerate Diagnostics.