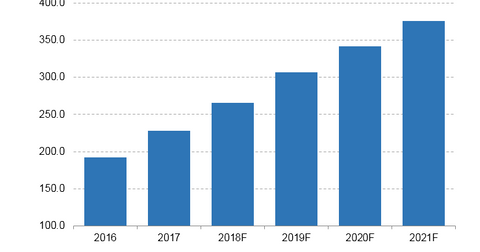 Shedding Light on Verizon's Costs and Media Ambitions
By Ruchi Gupta

Updated
Exchanging exclusivity for broader distribution
In agreeing to let go of exclusive rights to live-stream NFL games on mobile phones, Verizon (VZ) may have carefully considered its ambitions for its media and advertising business, Oath. While Verizon surrendered the rights to stream NFL games to its wireless customers exclusively, it got an expanded distribution license that allows it to show NFL games across a variety of its digital platforms. In addition to the Go90 app, Verizon got permission to show live games on platforms such as Yahoo and Yahoo Sports.
Therefore, giving up mobile exclusivity rights seems to have paved the way for Verizon to win NFL content for more of its digital assets under Oath.
Article continues below advertisement
Verizon has spent over $12 billion on Oath
Putting Oath together and providing it rails on which to run has taken a lot out of Verizon. Oath emerged largely from the combination of Verizon's AOL and Yahoo assets. To acquire AOL, which it did in 2015, Verizon parted with $4.4 billion. To acquire Yahoo, Verizon parted with $4.5 billion in a deal that closed in 2017. Therefore, between AOL and Yahoo alone, Verizon spent nearly $10 billion toward its media ambitions.
Adding the reported $2.3 billion that it agreed to pay to license NFL content over five years, Oath has so far taken about $12.3 billion from Verizon.
What's Verizon's bet?
For Verizon, the hope is that what goes into Oath is not lost. Oath is the machine Verizon is taking along with it as it goes hunting in the digital advertising industry.
According to eMarketer, brands worldwide spent $228.4 billion on digital ads in 2017, and the spending is set to go up to more than $375.8 billion by 2021. While Facebook (FB) and Google (GOOGL) have a tight grip on the digital advertising space, Verizon is betting on its Oath business to challenge them. Verizon's doubling down on media and advertising through Oath is also partly viewed as its response to disruptions from T-Mobile (TMUS) and Sprint (S) in the US wireless market.