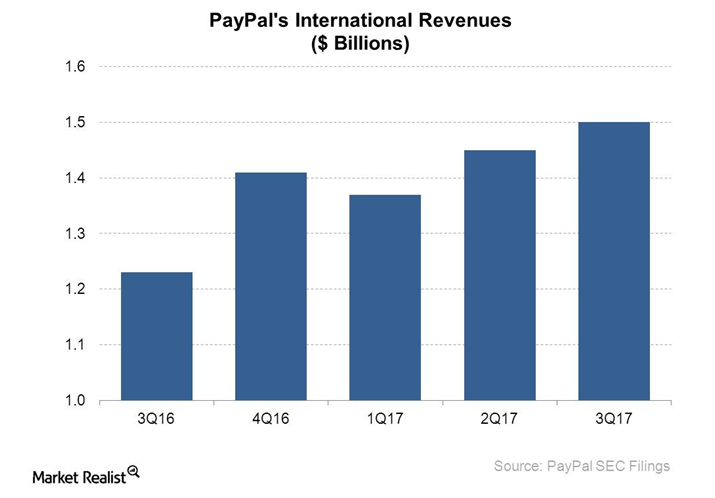 PayPal: It's Not Always Competition with Perceived Rivals
Partnering with Chinese payment apps
PayPal (PYPL) does not always look for opportunities to compete with perceived rivals in the digital payment market, suggested PayPal chief financial officer John Rainey at the Credit Suisse 21st Annual Technology, Media & Telecom Conference. In some cases, partnering with rival payment processors just works well for the company. To highlight how PayPal could still win by working closely with rival payment companies, Rainey cited the company's partnerships with Chinese mobile payment operators Baidu (BIDU) and Alibaba (BABA).
Article continues below advertisement
PayPal partners with Baidu and Alibaba rather than competing
Baidu, China's (MCHI) leading Internet search provider, operates mobile payment app Baidu Wallet, which competes with other Chinese mobile payment wallets such as WeChat Pay from Tencent (TCEHY) and Alipay from Alibaba. Alipay is operated by Alibaba affiliate Ant Financial, whose attempt to acquire US-based (SPY) MoneyGram (MGI) was recently thwarted by US (SPY) regulators.
What the partnerships involve
PayPal partnered with Baidu to allow the ~150 million people who use Baidu Wallet to shop from the ~17 million vendors on PayPal's global network. With Alibaba, PayPal struck a deal to allow its consumer customers to shop from Alibaba merchants. PayPal closed 3Q17 with more than 200 million active consumer accounts.
In partnering with perceived competitors, PayPal sees an opportunity to gain a foothold in global markets such as China, where it doesn't have as strong a presence as it does in the United States. Boosting its penetration in China could support growth for PayPal in overseas markets. PayPal's international revenue grew 22% year-over-year to $1.5 billion in 3Q17. The chart above shows how PayPal's international revenue has trended in recent quarters.