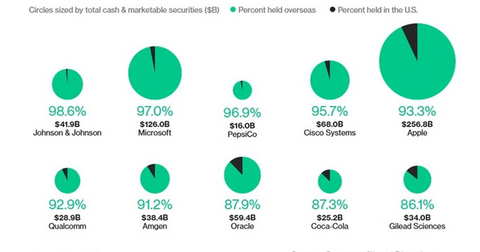 PayPal Is Selling Its $6 Billion Loan Portfolio to Synchrony
By Neha Gupta

Updated
PayPal offloading $6.0 billion in loans
PayPal (PYPL) executives have recently shared additional details about the deal with Synchrony Financial (SYF) to offload a large portion of its loan portfolio. PayPal announced in November that it agreed to sell its portfolio of US (SPY) consumer loans valued at ~$6.0 billion to Synchrony.
The announcement added that Synchrony would purchase an additional $1.0 billion in consumer loans from several unidentified PayPal loan investors.
Article continues below advertisement
PayPal receiving international cash in Synchrony transaction
Speaking at a recent technology conference hosted by Credit Suisse, PayPal's chief financial officer, John Rainey, shed more light on the transaction with Synchrony. Rainey explained how the transaction fits with PayPal's broader strategy, which is to become a one-stop shop for customers' financial solutions.
Rainey noted that the proceeds that PayPal plans to receive from the transaction with Synchrony would be international cash. He noted that a majority of PayPal's cash is held in offshore accounts. 
Apple (AAPL), Microsoft (MSFT), Cisco Systems (CSCO), and Oracle (ORCL) are among the US multinationals with a majority of their cash sitting in overseas accounts.
PayPal needed to free up cash
Rainey delved into the logic behind PayPal decision offload its consumer loans business. He noted that PayPal determined that it was devoting a larger percentage of its cash to fund loans than it was comfortable with, considering that credit is a lower-returning business for the company.
PayPal determined that the best way to free up cash to invest in higher-growth alternatives was to sell a portion of its loan business to Synchrony.