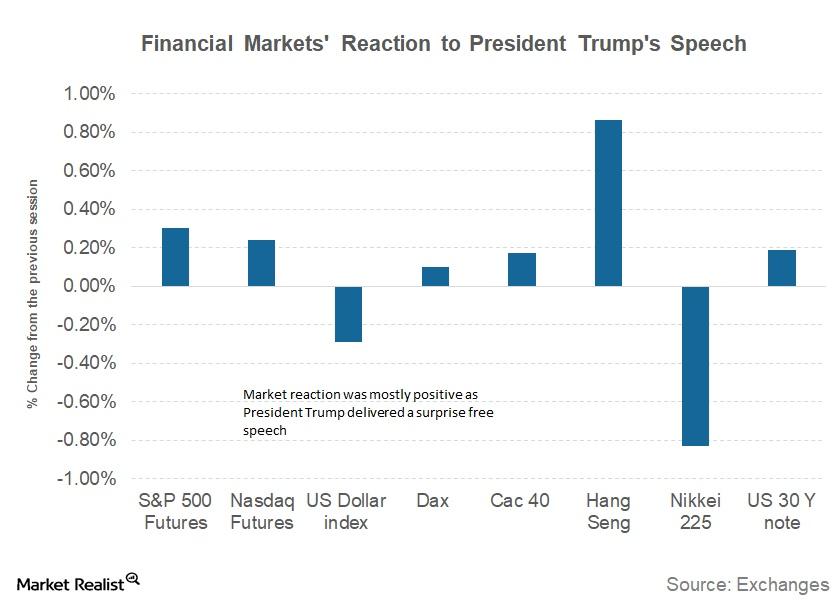 Markets React to President Trump's State of the Union Speech
By Ricky Cove

Jan. 31 2018, Updated 11:40 a.m. ET
Markets remain muted
Financial markets were relieved after President Trump's State of the Union address. Global markets rebounded from steep declines on Tuesday. President Trump's speech had a calm tone and no surprises for the markets. No countries were targeted for unfair trade practices. President Trump didn't mention any unfair trade deals.
US market (SPY) futures were trading 0.3% higher. However, it would be difficult to determine the impact of the speech since US earnings season is in full swing this week. There wasn't any bad news in the speech.
Article continues below advertisement
Sectors mentioned in the speech
A big push is expected for the infrastructure (INXX) sector. President Trump has requested that Congress approve $1.5 trillion for new infrastructure (PXR) spending. There weren't any specifics about which segments of the US infrastructure would be rebuilt. However, the announcement would help maintain the positive momentum in US markets.
Impact on the US dollar and bond market
US bond markets rebounded after President Trump's speech. Across the board, US bond (BND) yields have declined by an average of 15 basis points. However, the US dollar (UUP) didn't maintain the gains that were seen after President Trump's speech. Markets are looking forward to the US FOMC meeting, which will be Fed Chair Janet Yellen's last FOMC meeting.
Overall, the impact of President Trump's speech on the markets can be considered "net positive." The speech gave investors more hope about the $1.5-trillion infrastructure spending plan.