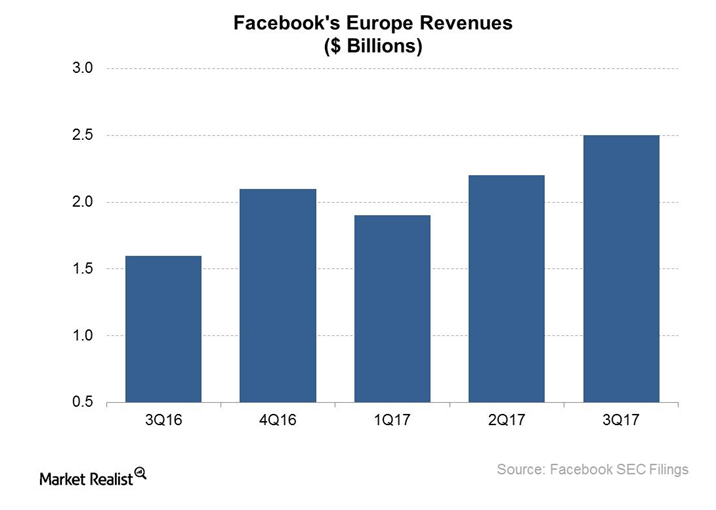 When Marketing Takes Facebook Off-Platform
By Neha Gupta

Jan. 10 2018, Published 3:03 p.m. ET
Sometimes Facebook goes off Facebook
Although Facebook (FB) is one of the largest advertisers on its digital platforms, the company doesn't do all its marketing exclusively on its native platforms. In addition to its flagship social media site, Facebook's other native digital platforms are WhatsApp, Messenger, and Instagram. These platforms reported 800.0 million–1.3 billion monthly users.
Marketing efforts have taken Facebook off its own sites a few times, which the company's chief marketing officer, Gary Briggs, revealed when he spoke recently at technology conference organized by Wells Fargo.
Article continues below advertisement
Promoting Facebook Live took the company off-platform
Reaching slow markets
In some seemingly hard-to-crack markets, Facebook has combined on-platform and off-platform marketing efforts. Facebook took this action in Germany (EWG). According to Briggs, Germany is not as highly penetrated as it would like.
To increase its initiatives in Germany, Facebook has been engaging with Germans one-on-one and addressing their concerns around issues such as how the ads work. Briggs said that such off-platform marketing efforts have helped boost subscriber engagement metrics in Germany.
Germany contributes to Facebook's Europe (EFA) sales. In 3Q17, Facebook generated revenues of $2.5 billion in Europe. The company's Europe revenues totaled $1.6 billion in 3Q16.