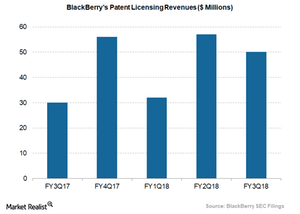 Looking into the BlackBerry–Nokia Patent Licensing Dispute
By Sophia Nicholson

Updated
BlackBerry lost to Nokia over contract dispute
BlackBerry (BB) agreed to pay ~$137.0 million to Nokia (NOK) over its patent licensing dispute, despite not accepting Nokia's arguments. The arbitration committee of the International Chamber of Commerce (or ICC) ruled in favor of Nokia, which alleged that smartphone maker BlackBerry didn't make certain payments to the company on patent license contracts. However, details of the deal were not specified.
Article continues below advertisement
BlackBerry challenges Nokia in two other cases
While BlackBerry lost a patent licensing case with Nokia, the former company won a separate patent litigation award of $940.0 million from Qualcomm (QCOM). BlackBerry noted that it is pursuing two different patent infringement cases against Nokia in the US and Germany.
BlackBerry is committed to the claims it filed in February 2017, alleging that Nokia infringed 11 of its patents. However, the Finnish network equipment maker challenged the claims.
BlackBerry's focus to turn its business around
BlackBerry had to exit from its phone-making market, as it could not match the pace of other smartphone makers like Apple (AAPL) and Samsung (SSNLF). BlackBerry is working to streamline its operations to focus on the more promising software and services market. The company is also outsourcing a portion of its patent-licensing business.
BlackBerry generated revenues of ~$50.0 million from its patent licensing business in fiscal 3Q18, up from its fiscal 3Q17 revenues of $30.0 million. However, the licensing market has a high degree of financial risk arising from disputes and litigation over intellectual property.