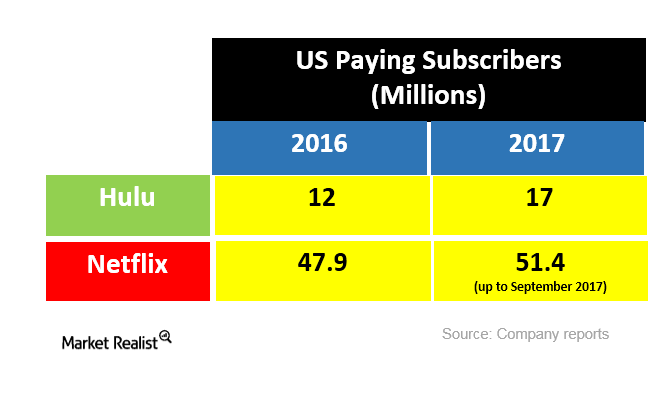 Just How Important Could Hulu Be for Disney?
By Ruchi Gupta

Jan. 18 2018, Updated 7:31 a.m. ET
Disney and Hulu
As Walt Disney's (DIS) stake in Hulu is set to double if Disney's deal with Twenty-First Century Fox (FOX)(FOXA) goes through, it's important to examine Hulu closely to see what kind of business Disney is seeking to double its exposure to.
Disney's $52.4 billion acquisition of most of Fox's assets is expected to take its stake in Hulu from 30% to 60%. What's interesting in all this is that Disney is looking to double its stake in Hulu while it's planning to roll out its own Hulu challengers as soon as next year.
Article continues below advertisement
Would it be better for Disney to just take full control of Hulu to give itself a head start in the video streaming market? Or would it rather divest its Hulu stake and concentrate on running in-house streaming video services that would take on Hulu, Netflix (NFLX), Amazon (AMZN), and everyone else along the way?
Hulu recently disclosed that it has attracted more than 17 million subscribers to its SVOD (subscription video on demand) and live television services across the United States (SPY) through the end of 2017. That's an increase of 40% over last year.
But Netflix, the SVOD giant that Hulu and everyone else is challenging, revealed 51.4 million paying US subscribers as of the end of September 2017.
Hulu further said that its advertising revenue beat $1.0 billion in 2017—for the first time in the company's history. But the company is said to have accumulated $560 million in losses in the first nine months of 2017.
Hulu touts a young audience
Despite its fewer US subscriptions than Netflix, Hulu boasts a young audience base. The company said its viewers have a median age of 31, which is about 25 years younger than the average traditional television viewer.