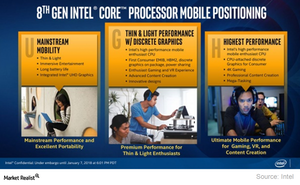 Intel's New Kaby Lake-G CPU Lineup Integrates AMD's GPUs
By Puja Tayal

Updated
Intel CPU integrated with AMD's GPU
Even though it was recently brought to light that Intel's (INTC) Core processors have a design flaw, the company unveiled its most awaited H-series eighth-generation Kaby Lake CPUs (central processing units) integrated with Advanced Micro Devices' (AMD) Radeon RX Vega M GPUs (graphics processing units) at the CES (Consumer Electronics Show) 2018. This marks a remarkable shift in Intel's CPU lineup and could help Intel compete with NVIDIA (NVDA) in the PC gaming space.
At the CES 2018, Intel showed two two-in-ones integrated with Kaby Lake-G processors: the Dell XPS 15 two-in-one and the Hewlett-Packard (HPQ) Spectre x360 15.
Article continues below advertisement
Graphics
Intel unveiled five Core processors with integrated Radeon Vega GPUs under the Kaby Lake-G lineup: four i7 CPUs and one i5-8305G. These processors have two GPU options including GH (graphics high) and GL (graphics low).
The GH features 24 compute units and 1,536 stream processors with a base clock speed of 1,063 MHz (megahertz) and a peak performance of 3.7 TeraFLOPS (floating point operations per second). In contrast, the GL features 20 compute units and 1,280 stream processors.
These Kaby Lake-G processors also house Intel's integrated HD (high definition) graphics card, making its performance comparable to that of NVIDIA GTX 1050 or GTX 1060 Max Q. NVIDIA's MaxQ technology allows users to connect their discrete GPU with laptops powered by Intel's processors that house its integrated HD graphics card.
Article continues below advertisement
Power efficiency
The Core i7-8809G and 8709G consume 100 watts power, as they combine a 35-watt H-series CPU with a 60-watt discrete GPU. The other three processors with GL consume 65 watts of power. However, PC (personal computer) OEMs have the ability to limit power consumption. Dell's two-in-one powered by Kaby Lake-G consumes 45 watts of power.
Other features of Kaby Lake-G 
Kaby Lake-G's custom Vega GPU comes with 4 GB (gigabyte) of HBM2 (high bandwidth memory) and a 1024-bit memory bus. Among the five Kaby Lake-G processors, only the Core i7-8809G is unlocked, which allows OEMs (original equipment manufacturers) to integrate overclocking capabilities.
Kaby Lake-G CPUs feature 4-cores/8-threads and have a custom Vega GPU with 4GB (gigabyte) of HBM2 (high bandwidth memory). Intel's processor integrates Vega GPU through eight lanes of PCIe 3.0 (Peripheral Component Interconnect Express). The processor can support up to nine display outputs.
Intel announced that it would launch more H-series processors without Vega GPUs in 2018.