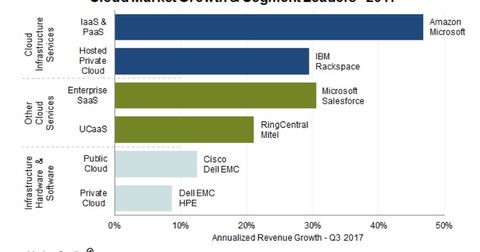 How Is IBM's Cloud Business Positioned?
By Anne Shields

Updated
IBM is a leader in the private cloud space
Earlier in the series, we discussed the performance of IBM's (IBM) cloud offerings in the last quarter. Early this month, Synergy Research released its recent report on the cloud space. The report said that the cloud has become a $180 billion market and is growing at an annual rate of 24%.
According to John Dinsdale, chief analyst at Synergy Research Group, "We tagged 2015 as the year when cloud became mainstream and 2016 as the year when cloud started to dominate many IT market segments. In 2017 cloud was the new normal." As the below chart shows, IBM continues to be a leader in the private cloud space.

Article continues below advertisement
IBM's initiatives in private cloud space
In late 2017, IBM launched the IBM Cloud Private software platform, which is built on Kubernetes-based container architecture. It is the company's tailored hybrid cloud offering aimed at strengthening IBM's performance in this space. IBM Cloud Private software platform helps companies to develop on-premise cloud capabilities like public clouds to speed up app development.
IBM's Cloud Private software platform aims to leverage the emerging trend for organizations to adopt private cloud as a stop-gap in their journey from total on-premise systems to their organization's optimal mix of on-premises and cloud. Through its cloud offerings and expertise in hybrid cloud, IBM is helping its customers convert on-premise systems into private-cloud and hybrid cloud environments. Thus, while extending the life as well as the value of legacy systems, IBM's cloud offerings are reinvigorating them with several attributes and capabilities that are required of modern enterprise IT (information technology) in today's global digital economy.
Last year, IBM partnered with Red Hat (RHT) in late March 2017. Under the deal, IBM is developing private clouds for its customers with the aid of Red Hat technology.