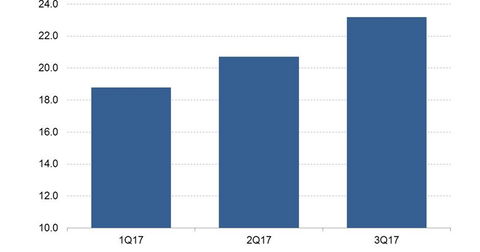 How Facebook Uses 2G Tuesdays to Improve Its Products
By Neha Gupta

Updated
Experiencing Facebook in a different way
Facebook (FB) operates an internal initiative called 2G Tuesdays, which allows employees to experience the Internet as millions of Facebook subscribers in emerging markets (EEM) do. Internet connectivity in emerging markets can be frustratingly slow.
Under the 2G Tuesdays initiative, Facebook slows down Internet connections to 2G speeds for its employees. The idea is to give employees a simulated experience of using Facebook products on slow networks. Facebook closed 3Q17 with 23,200 employees, compared with 20,700 employees at the end of 2Q17.
Article continues below advertisement
Using simulated slow network experience to inspire innovation
Facebook (FB) noted that most of the world experiences its services on 2G networks, making profiles and photos load more slowly than they would do on 3G or 4G connections. These faster connections are widely available in the developed world (SPY). The majority of global Facebook subscribers access the service on low-end devices, which further compounds the connection speed problem.
Through its 2G Tuesdays initiative, Facebook is able to remind its employees that most of the people they serve are not "on an iPhone on a 4G network." By making employees recognize the frustration of working on a slow network like 2G, Facebook is inspiring product innovation within its teams.
Facebook Lite
According to Facebook's chief marketing officer, Gary Briggs, the implementation of 2G Tuesdays is leading to products that recognize subscribers' frustrations and seek to improve their experiences. Facebook Lite, the skinny version of Facebook's flagship app, is an example of products that recognize the difficulty of using Facebook on a low-end device on a slow network.
Alphabet's Google (GOOGL) and Twitter (TWTR) have followed in Facebook's footsteps to create lighter versions of their apps that are optimized for slow connections.