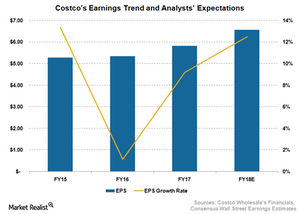 Why Costco's Earnings per Share Could Rise in Double Digits in 2018
Recent performance
Costco (COST) has reported double-digit EPS (earnings per share) growth in the past couple of quarters despite pressure on margins from low pricing and increased competition. Moreover, Costco surpassed analysts' earnings expectations in the past three quarters.
The company's bottom line benefited from its stellar sales growth and lower SG&A (selling, general, and administrative) expenses. Meanwhile, higher membership fee income and cost savings from co-branded credit cards further supported Costco's EPS growth rate.
In comparison, rival Walmart (WMT) has impressed with the performance of its bottom line over the past three consecutive quarters. The company's EPS improved on a year-over-year basis, driven by healthy sales growth. However, increased investments in growth initiatives remained a drag.
As for Target (TGT), the company's bottom line took a hit from higher digital fulfillment costs amid rising e-commerce sales. Moreover, Target lowered prices on thousands of items to strengthen its position against Amazon (AMZN), which adversely impacted its profit margins.
Article continues below advertisement
Outlook for 2018
Analysts expect Costco's (COST) bottom line to register double-digit growth in fiscal 2018. Strong sales, driven by increased store traffic in the US (SPY), inflation in gasoline prices, favorable currency rates, cost savings, and higher membership fee income is expected to boost the company's EPS growth. However, pressure on margins from price investments is expected to remain a drag.
Meanwhile, analysts expect Walmart's bottom line to also mark year-over-year growth, driven by improved sales. However, increased costs and a higher promotional environment are expected to hurt Target's bottom line performance.