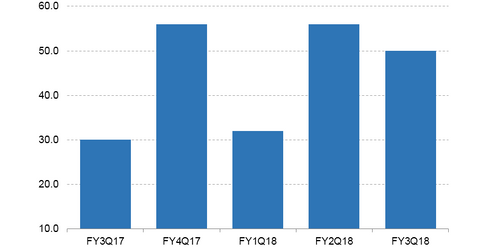 Why BlackBerry Outsourced Its Patent Licensing Efforts
By Ruchi Gupta

Updated
Teletry to handle BlackBerry's patent monetization
BlackBerry (BB) has tapped Teletry to be its patent licensing partner. The company highlighted this development in its latest quarterly earnings update for fiscal 3Q18 (the November quarter).
Teletry is a unit of the US-based (SPY) Marconi Group. Under the agreement, BlackBerry has transferred the rights to Teletry to monetize a significant portion of its intellectual property (or IP). Teletry is expected to primarily license the BlackBerry patents under its control to Smartphone manufacturers. BlackBerry was a leader in the Smartphone market before it fell behind Apple (AAPL) and Samsung (SSNLF), leading it to divest its phone-making business.
Article continues below advertisement
Opportunity to free up resources
BlackBerry's exit from the device-manufacturing business was part of a broader turnaround strategy as the company worked to streamline its operations to focus on the more promising software and services market. The outsourcing of a portion of its patent-licensing business also appears to fit with BlackBerry's streamlining and turnaround efforts. The arrangement with Teletry could help BlackBerry to free up resources, cash, and management time. It could also help BlackBerry to focus more on its core business: software and services.
BlackBerry ordered to pay $137 million
Monetizing IP can be a key source of revenue, but it can also be a source of frustration stemming from costly litigations, and BlackBerry has had its share of such challenges. According to a Reuters report, BlackBerry recently lost a patent case to Nokia (NOK), and the court subsequently ordered it to pay Nokia $137 million.
In a separate patent litigation, BlackBerry won $940 million from Qualcomm (QQQ). Perhaps partially outsourcing patent monetization operations could help BlackBerry cut some of its risks in this business.
BlackBerry's patent licensing business generated $50 million in revenue in fiscal 3Q18, up from $30 million in the previous year's quarter.