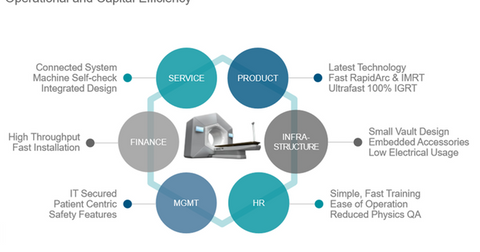 Varian's Halcyon System Sees Strong Global Growth Momentum
By Sarah Collins

Updated
Overview
Varian Medical Systems (VAR) received FDA (U.S. Food & Drug Administration) approval in June 2017 for its Halcyon system. The device also received a CE (Conformité Européene) Mark in early fiscal 2017. The system aims to provide advanced treatment for patients suffering from breast, head, prostate, and neck cancers. It aims to accelerate the company's focus on providing value to customers by reducing the total cost of ownership. In September 2017, Penn Medicine in Philadelphia performed the first treatment with the Halcyon system on a cancer patient. For details, read Varian's Halcyon Reaches Milestone Achievements.
Article continues below advertisement
Halcyon performance and orders growth
Since the introduction of its Halcyon system, Varian Medical Systems has received 50 orders from 15 countries around the world. In 4Q17, its received 23 orders for its IMRT (intensity-modulated radiation therapy) platform. Of those 23 orders, 12 were received from the EMEA (Europe, the Middle East, and Africa) region. North America reported ten orders, and the company received one order from the APAC (Asia-Pacific) region. In the quarter, Varian received its first Halcyon order from South Korea. It was ordered by a non-hospital customer.
According to Varian Medical Systems, the Halcyon opportunity is expected to increase to $900 million over the next five years. The system is also expected to witness high demand in emerging markets where the company expects to see better conversion cycles as a result. That's due to the system's faster treatment times, which should help improve patient-per-day volumes of hospitals and thus deliver more value and cost efficiency. For more on this, read Varian's Halcyon Treatment System Sees Emerging Market Demand.
Investors seeking industry-focused exposure to Varian Medical Systems can invest in the iShares U.S. Medical Devices ETF (IHI), which holds 1.7% of its total holdings in VAR. Peers Boston Scientific (BSX), Abbott Laboratories (ABT), and Accuray (ARAY) make up 4.4%, 9.4%, and 0.17%, respectively, of IHI's total portfolio.