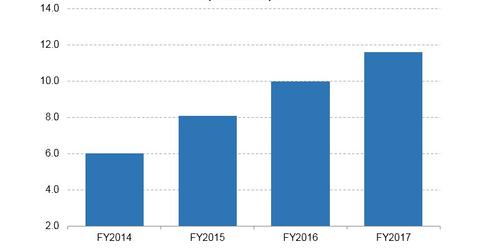 US Tax Cuts Could Hand Apple a $5 Billion One-Off Profit
By Ruchi Gupta

Updated
Republicans pushing for significant US tax reforms
A reduction in the US (SPY) corporate tax rate on foreign earnings would be a boon for Apple (AAPL) in several ways. In addition to Apple potentially lowering its tax liability on repatriated earnings by $47.2 billion, the company might also end up booking about $5.0 billion in a one-time profit as a result of a cut in the corporate tax rate.
Republican leaders in Congress are rooting for an overhaul of the US tax code that would see corporate profits generated domestically taxed at a rate not exceeding 20% and profits generated overseas taxed at a rate not exceeding 14.5%.
Apple leads with most offshore earnings
Apple leads US multinationals with billions of dollars in foreign earnings stored outside the United States. By some estimates, Apple has over $239.6 billion in cash kept in offshore accounts, accounting for 93% of its total cash holding. Microsoft (MSFT), Cisco Systems (CSCO), and Qualcomm (QCOM) have over 90% of their cash holdings in offshore accounts, according to a list compiled by Bloomberg, based on the companies' disclosures.
If Apple repatriated its foreign earnings under a 14.5% tax rate, the company's tax bill would be $31.4 billion as opposed to roughly $78.6 billion under a 35% tax law, implying a $47.2 billion savings on tax liability.
Apple set aside $36.4 billion to a repatriation tax
Since Apple had set aside $36.4 billion to cover expected taxes on repatriated foreign earnings, more than the $31.4 billion that the Financial Times expects to be its tax bill under a reduced corporate tax rate, the difference works out to $5.0 billion, which could be recorded as a one-time profit.
Apple could do a lot with a $5.0 billion unexpected windfall, such as a boost to its capital return program or reinvest in more growth, such as through research and development (or R&D). In fiscal 2017 (ended September 2017), Apple invested $11.6 billion in R&D, 15% higher than in fiscal 2016.