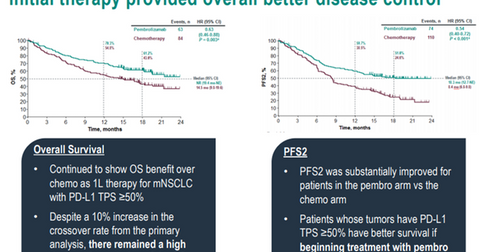 Label Expansion Continues to Boost Keytruda's Sales in 2017
By Margaret Patrick

Updated
Label expansion
In 2017, the U.S. Food and Drug Administration (or FDA) approved Merck & Co.'s (MRK) drug Keytruda in six new indications, while the European Commission approved the drug in four new indications. The company also managed to secure regulatory approval for Keytruda in Japan in three indications.
In 3Q17, Keytruda reported US sales greater than $600 million. The majority of eligible new patients in the United States prefer Keytruda over any immuno-oncology agent across indications. While part of the drug's revenue growth can be attributed to the normalization of inventory levels by distributors, a major portion of the rise in its sales is the result of improving demand trends, both on a year-over-year (or YoY) and a quarter-over-quarter basis.
Lung cancer indication
The above diagram shows the overall survival and progression-free survival results from the KEYNOTE-024 study, which compared Keytruda monotherapy with platinum doublet chemotherapy as a first-line therapy for metastatic non-small cell lung cancer (or mNSCLC) patients with PD-L1 tumor proportion scores (or TPS) of less than 50%. Keytruda's higher efficacy despite a 10% rise in the crossover rate (or the switching of patients from the chemotherapy arm) has been a key factor in driving the increasing adoption of the drug in the high expresser mNSCLC patient community. Additionally, based on the KEYNOTE-021G study data, physicians have been increasingly prescribing a Keytruda and Alimta combination regimen in first-line NSCLC indications.
Currently, one out of every three newly diagnosed lung cancer patients is being prescribed Keytruda. The drug has thus enabled Merck to compete aggressively with other lung cancer players such as Roche Holdings (RHHBY), Bristol-Myers Squibb (BMY), and AstraZeneca (AZN).
In the next article, we'll discuss Keytruda's approved indications in greater detail.