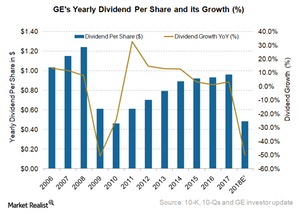 General Electric Declared a Quarterly Cash Dividend
By Samuel Prince

Updated
4Q17 dividend
On December 9, 2017, General Electric (GE), an industrial conglomerate, declared a quarterly cash dividend of $0.12 per share on its outstanding common stock. The quarterly dividend holds a key place in General Electric's capital allocation framework. This quarterly dividend is the first dividend announcement after the company vowed to increase its free cash flow in an investor update on November 13, 2017.
General Electric's quarterly dividend is payable on January 25, 2018, to stockholders of record at the close of business on December 27, 2017. The ex-dividend date is December 26, 2017. General Electric has ~8.6 billion equity shares outstanding. With a payment of $0.12 per share, its 4Q17 cash dividends will amount to slightly over $1.0 billion.
Past quarterly cash dividends
Note that exactly a year before, General Electric announced a 4% rise in its quarterly cash dividend from $0.23 per share to $0.24 per share. It was the era of former CEO Jeff Immelt. In the few months since John Flannery became the new CEO, General Electric has seen a lot of action. There has been a 50% cut in yearly dividends. Now, General Electric's yearly cash dividend stands at $0.48 per share from $0.96 per share earlier.
A quick dive in recent quarters revealed that General Electric raised its cash dividend in 4Q14 to $0.23 per share from $0.22 per share in 3Q14. The company's dividend took a severe beating for the first time after the 2008 financial crisis when it slashed dividends 50%. Looking at the dividend per share and YoY (year-over-year) dividend growth in the past ten years, General Electric appears to have embraced pride over rationality.
ETF investment
A total of 105 ETFs have included General Electric in their portfolio. Among the major industrial ETFs, the iShares U.S. Industrials ETF (IYJ) has General Electric (4.6%) in its portfolio. Excluding General Electric, other industrial big names included in IYJ in the descending order of holding are Boeing (BA) at 4.7%, 3M Company (MMM) at 4.3%, and Honeywell International (HON) at 3.5%.
Next, we'll gauge whether the dividend cuts will be enough to cover up General Electric's ailing free cash flows.