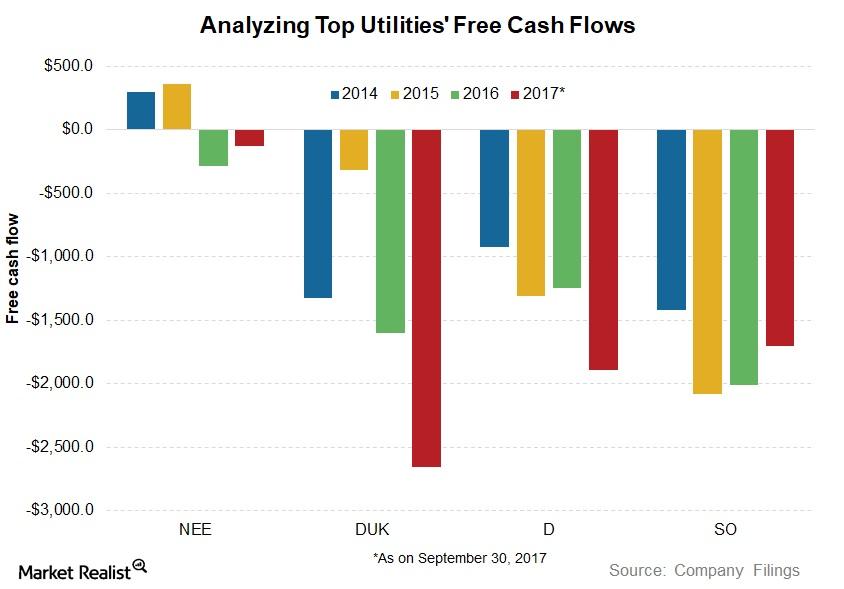 Comparing the Top Utilities' Free Cash Flow Trends
Free cash flow
Free cash flow is generally calculated as the difference between operating cash flow and capital expenditure. It's a vital metric to use in measuring utilities' (XLU) performances, mainly due to their heavy capital expenditure needs.
NextEra Energy (NEE) appears to be better placed than its peers when it comes to free cash flow. Its free cash flow was healthy before a slight drop in 2016. On September 30, 2017, NEE's free cash flow came in at -$131 million. According to historical trends, NextEra Energy could generate robust free cash flow in 2017 as well.
Article continues below advertisement
Dominion Energy (D) hasn't registered positive free cash flow for the last five years. A similar movement has been seen in the sector due to increasing capital investments and flat growth in cash flows from operations. In comparison, Southern Company (SO) and Duke Energy (DUK) have registered negative free cash flows in the last five years.
Read more about NextEra Energy in Should Utility Investors Consider NextEra Energy?