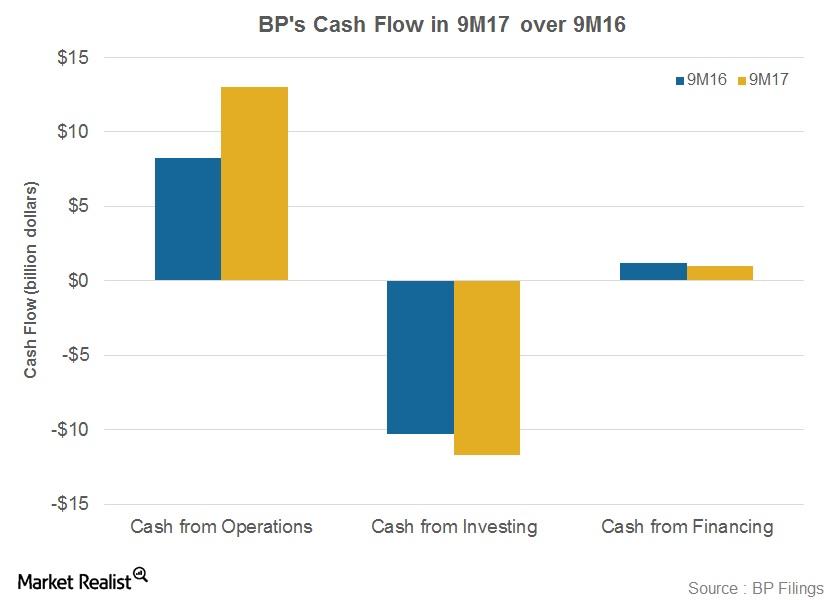 Is BP's Cash Flow Position Slated for a Reform?
By Maitali Ramkumar

Dec. 4 2020, Updated 10:53 a.m. ET
BP's cash flow position
BP's (BP) cash flow from operations rose 58% YoY to $13.0 billion in 9M17 (the first nine months of 2017). Also, BP's cash outflow from investing stood at $11.7 billion in 9M17 compared to $10.3 billion in investing outflows in 9M16. Also, the company's cash flow from financing was positive as BP raised fresh debt in the first nine months. But let's look at the need behind the fresh debt.
Article continues below advertisement
The shortfall
In 9M17, BP produced $13.0 billion in cash from operations. However, it had a cash outflow of $12.1 billion in the form of additions to plant, property, and equipment and $4.6 billion in the form of dividends, adding up to $16.7 billion of cash outflow. This resulted in a cash flow shortfall of $3.7 billion (the difference between cash inflow of $13.0 billion and cash outflow of $16.7 billion).
BP funded the shortfall by resorting to fresh debt. BP raised $5.0 billion of net debt in 9M17, received $1.0 billion from divestment of assets and business, and gained $0.5 billion in currency translation. The excess led to a rise in the cash reserves. BP's cash reserves rose from $23.5 billion at the beginning of 9M17 to $25.8 billion at the end of 9M17.
Peer liquidity
If we estimate BP's shortfall as a percentage of its earnings capacity, regarding cash flow from operations, it stood at 28%. In comparison, Chevron (CVX) had a lower shortfall of 11% in 9M17. However, ExxonMobil (XOM) and Royal Dutch Shell (RDS.A) had surpluses standing at 9% and 17%, respectively, in 9M17. For more on this, you can refer to Integrated Energy Firms' Cash Flow in 9M17.
What to expect going forward
BP's strong upstream project pipeline is likely to add to BP's overall oil and gas production. Thus, considering BP's strategy (of optimizing capex, reducing cost structure, and keeping Gulf of Mexico spill charges under control) and robust upstream portfolio, BP's earnings should likely increase, resulting in improved cash flow and a better liquidity position going forward.