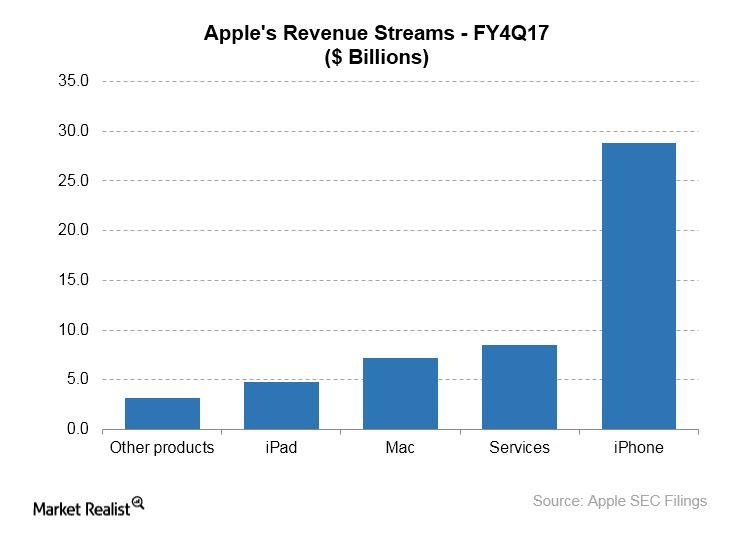 What Apple's Possibilities Could Be with PowerbyProxi
By Ruchi Gupta

Dec. 21 2017, Published 3:04 p.m. ET
First iPhones with wireless charging support
Apple (AAPL) recently acquired PowerbyProxi, a New Zealand company that specializes in wireless power products. Apple confirmed the acquisition of PowerbyProxi without disclosing financial details of the transaction.
But what Apple could do with PowerbyProxi's technology (QQQ) isn't so secret. The acquisition of PowerbyProxi almost coincided with the release of Apple's first smartphones with the capability to charge wirelessly. The iPhone 8 and the iPhone X, which came out in September and November, respectively, are Apple's first smartphones enabled for wireless charging.
Article continues below advertisement
Multi-device wireless charger
In wireless charging, devices are re-energized by placing them on a pad instead of attaching power cords. Apple still doesn't offer a native pad for charging the new iPhones, so those who want to charge the devices wirelessly can use third-party charging pads.
However, Apple is working on its own wireless charging pad, AirPower, which could launch sometime next year. Unlike most wireless chargers that recharge one device at a time, Apple's AirPower will be able to charge up to three devices simultaneously.
Potential source of new revenue
With PowerbyProxi's technology, experts such as Jake Saunders of ABI Research have noted that Apple could develop more advanced wireless charging systems that could not only provide quick recharges but also go beyond recharging handsets. For example, the advanced system could wirelessly recharge larger devices such as laptops or even electric scooters.
Such an advanced wireless charging system could not only bolster Apple's competition with Samsung (SSNLF), Sony (SNE), and China's (MCHI) Xiaomi in the smartphone market but also open up a new revenue stream for the company through the sale of chargers and technology licensing.