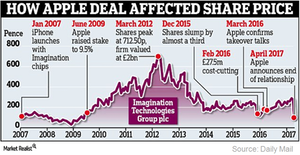 How Apple's In-House Chip Strategy Affects Semiconductor Companies
By Puja Tayal

Dec. 19 2017, Updated 7:30 a.m. ET
How Apple's move to in-house PMIC could impact Dialog Semiconductor
Previously in this series, we explored reports Apple (AAPL) could discontinue its relationship with British (EWU) supplier Dialog Semiconductor for its in-house PMIC (power management integrated circuits).
This report impacted Dialog Semiconductor's stock price as the chipmaker noted that Apple is capable of designing its PMICs. Apple maker hired about 28 of Dialog Semiconductor's employees between March 2016 and November 2017, according to Business Insider.
Although Dialog Semiconductor acknowledged Apple's capability, it denied that the handset maker would start using in-house PMICs in 2018. Dialog Semiconductor stated that it already agreed to supply chips to Apple in 2018 and has also started designing chips for Apple's 2019 products.
If this report is true, it would have a significant impact on Dialog Semiconductor, which is the exclusive designer of power chips for the iPhone, iPad, and Apple Watch products, according to Credit Suisse. Dialog Semiconductor earns ~75% of its revenues from Apple.
Article continues below advertisement
Apple's in-house chip designing impacts other suppliers
Dialog Semiconductor is not the first supplier to face the heat of Apple's in-house chip development strategy. In April 2017, Apple discontinued its relationship with graphics card designer Imagination Technologies to product an in-house graphics card.
Imagination Technologies, which depended on Apple for over 50% of its revenues, saw its stock price plummet. It eventually sold itself to China-backed private equity fund Canyon Bridge in September 2017.
Apple's suppliers Portal Player and Wolfson also sold themselves after the iPhone maker shifted to using in-house chips. Analysts believe that suppliers such as Synaptics (SYNA) and Cirrus Logic (CRUS) could be affected as Apple looks to bring more technology in-house.
Suppliers' next steps
Looking at the impact Apple's in-house chip development strategy has had on its supplier, we believe that Dialog Semiconductor could act quickly and diversify its revenue streams by focusing on future projects. Dialog Semiconductor can expect to earn revenues from Apple for another year, giving it sufficient time to reduce its dependence on the iPhone maker.
In March 2017, Dialog Semiconductor partnered with China's Spreadtrum Communications to supply highly integrated hybrid signal power management technology for the latter's LTE (long-term evolution) chip platform.
Suppliers like Dialog Semiconductor and Cirrus Logic that rely heavily on Apple could use their status of being an iPhone supplier to win new clients. They could also focus on developing new products and expanding into new markets. For example, Texas Instruments (TXN) and Qualcomm (QCOM) have reduced their dependence on Apple by focusing on the automotive market.
Next, we'll see how smartphone chipmakers plan to increase their earnings as large handset makers move to in-house chips.