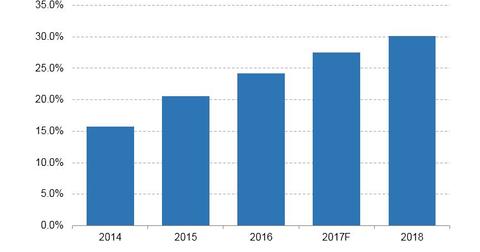 Alphabet Deploying New Internet Access Technology in India
By Neha Gupta

Updated
Internet speeds of up to 20 Gbps
Alphabet (GOOGL) is advancing its global Internet accessibility initiative in emerging markets (EEM). X, the company's research arm, is expected to supply a state in India (INDA) with thousands of newly developed Internet access technology beginning in 2018, Reuters reported.
The report stated that X's newly developed Internet technology uses specialized boxes mounted on posts or rooftops to supply high-speed wireless Internet access of up to 20 Gbps (gigabits per second). The boxes can beam Internet access over a 12-mile radius.
Article continues below advertisement
Connecting an additional 12 million households
The Indian state of Andhra Pradesh would acquire 2,000 boxes from X to expand Internet access for its residents. The state was estimated to have about 15.0 million high-speed Internet subscribers a year ago, and it is planning to connect 12.0 million more households to high-speed Internet by 2019.
With its population of more than 1.3 billion people, India has emerged as a coveted emerging market for digital companies. Amazon (AMZN) is investing $5.0 billion to grow its e-commerce business in the country, and broader Internet accessibility would be crucial to its success.
Opening up new digital markets
The box Internet technology that Alphabet's X is set to deploy in India is in addition to its larger Internet access initiative called Project Loon. The Loon project uses specially designed large balloons to supply high-speed wireless Internet to remote regions. The Loon project is part of Alphabet's effort to increase global Internet accessibility as it seeks to open up more markets for its digital services overseas.
Facebook (FB) has a similar global Internet accessibility initiative called Aquila, which uses a solar-powered drone to beam high-speed wireless Internet to remote locations on the ground.
Alphabet and Facebook looked to overseas markets for more than 50.0% of their revenues in 3Q17. Amazon and Twitter (TWTR) also garnered a large portion of their revenues from overseas markets during the quarter.