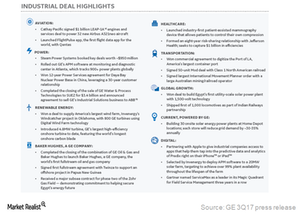 Will General Electric Consider Spin-Off?
Segment overview
In terms of revenue growth and margins, General Electric's (GE) Aviation, Renewable Energy, and Healthcare divisions have been doing well. In fact, GE's Healthcare segment has demonstrated strong results in recent years. John Flannery, the company's new CEO, was at the helm of affairs of the Healthcare segment for quite a long time.
Article continues below advertisement
The power segment, which showed green shoots in early 2017, dampened the spirits after the company's 3Q17 earnings release. The segment's disappointing results cast doubts on the synergies from the Alstom integration. In the Renewable Energy segment, General Electric has expanded its footprints in emerging markets around the world.
The Baker Hughes way
General Electric merged its oil and gas business with Baker Hughes to create Baker Hughes—a GE Company (BHGE). BHGE is still recovering from the oil price slump. However, with the recent Saudi Arabia events, a bull run in oil prices can't be ruled out, which could boost the oil and gas business. The success of the BHGE model could pave the way for another merger.
The transportation industry is cyclical in nature. GE's Transportation vertical has seen shrinking orders from the North American side, which still remains a sizable market for GE's locomotives. Which division will be retained and which might be let go is just speculation as of now. Considering the above factors, it appears that capital redistribution and streamlining industrial assets remain one of Flannery's top priorities. The market is ripe with speculation about a GE Transportation and a GE Capital Aviation Services divestiture. Investors will certainly be interested in any developments on this front.