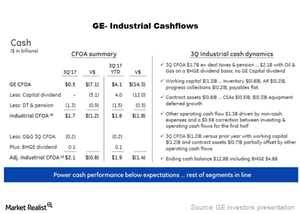 Why General Electric Could Be Considering Dividend Cuts
GE's dividend payments
General Electric (GE) had been an especially strong dividend payer until the financial crisis occurred. The company intends to pay $8.6 billion in dividends in 2017. However, the company's free cash flows are expected to be around $3.0 billion before the GE Capital dividend. GE has been doing an actuarial analysis of claims reserves in its insurance business. This review resulted in deferring the payment of GE Capital's dividend to the parent company.
Article continues below advertisement
Industrial operating cashflows are a concern
Operating cash flows from industrial operations have been a major concern for General Electric. The hurdles in cash generation have resulted from a working capital mismanagement, which the company acknowledged on its 3Q17 earnings call.
Most analysts expect John Flannery to announce dividend reductions during the investor update on November 13, 2017. The cash preservation by way of a dividend cut should fund the future capital allocation after the turnaround strategy.
Will weak financials lead dividend reduction?
GE's net earnings have fallen 23.4% in the first three quarters of 2017 on a YoY (year-over-year) basis. Importantly, the ~5% reduction in outstanding shares hasn't led the company's EPS to grow. In fact, the EPS from continuing operations have gone down by 24% in the first nine months of 2017, while free cashflows per share have gone down by 20% in the same period. Ironically, the company's per-share dividend has risen 4% in the same timeframe.
Article continues below advertisement
On the 3Q17 earnings call, John Flannery said, "We will be reviewing our outlook for 2017 and 2018 in terms of sources of cash and CFOA generation. We will do that with an appropriate balance of growth investment and dividend payout, and we will share our overall capital allocation framework with you at the November meeting."